Around the World with Hello Kitty & Friends – 2DS + 3DS

Around the World with Hello Kitty and Friends is een leuk avonturenspel voor jonge kinderen waarin cultfiguur Hello Kitty op een reis rond de wereld gaat. Op alle locaties die worden aangedaan zijn leuke spelletjes te spelen. Natuurlijk ga jij mee op dit doldwaze avontuur!
Hello Kitty reist niet alleen, maar neemt ook haar vriendjes mee. Jij speelt met deze schattige personages terwijl zıj winkelen, koken, kledingstukken passen, of als groepje uıtgaan om te dansen! Dit alles is natuurlijk in de schattige stijl die iedereen kent van Hallo Kitty!
Organiseer een feestje en nodig jouw favoriete personages uit. Niet alleen kan je kleding passen, maar je kunt ook je eigen outfit samenstellen, naaien en borduren. Voor al deze activiteiten zijn leuke spelletjes verzonnen voor jongere kinderen. Denk maar eens aan zoek de verschillen, puzzelspelletjes, of handelingen waarbıj je stukjes moet uitknippen en plakken.
De beste gaming producten vind je met korting bij PocketCubes
Specificaties:
Around the World with Hello Kitty & Friends – 2DS + 3DS
| | |
| --- | --- |
| Merk | Rising Star |
| Platform | Nintendo 3DS, Nintendo 2DS |
| Genre | Avontuur, Role Playing Game (RPG) |
| Speleditie | Standard edition |
| Personage | Hello Kitty |
| Gesproken taal | en |
| Format | DS-card |
| EAN | 5060102953593 |
| Doelgroep | Kindergames |
| Minimale leeftijd | 3 |
| Online abonnement vereist | Geen abonnement vereist |
| Regio | PAL |
| Systeemeisen | Nintendo 2DS, 3DS of 3DS XL handheld console |
| Retour- en annuleerbeleid | Klik hiervoor op Retourneren onderaan deze pagina |
| Verpakking | Jewelcase |
| Gewicht | 54 g |
| Gewonnen prijzen | Geen |
| Oorspronkelijke releasedatum | 2013-09-13 |
| Speltype | Top Down |
| Talen container | nl |
| Verpakking breedte | 130 mm |
| Verpakking hoogte | 23 mm |
| Verpakking lengte | 142 mm |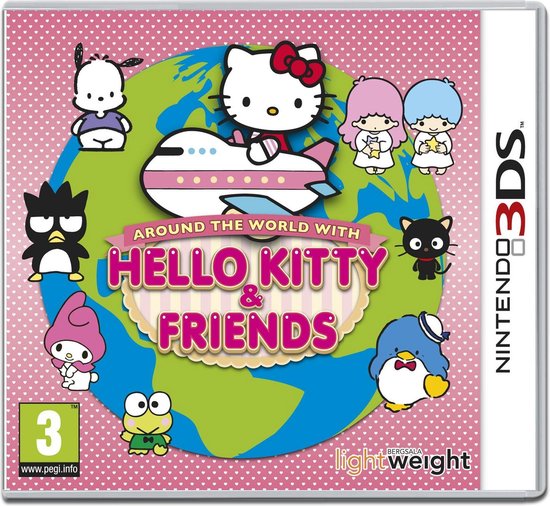 Around the World with Hello Kitty & Friends – 2DS + 3DS