Assassins Creed: The Ezio Collection – Ps4 (Import)

Assassin's Creed® The Ezio Collection bevat drie games:
• Assassin's Creed II

• Assassin's Creed Brotherhood

• Assassin's Creed Revelations
Maak geschiedenis als de legendarische Assassin, Ezio Auditore da Firenze, in Assassin's Creed® The Ezio Collection. Deze bevat de veelgeprezen single-player campaigns van Assassin's Creed® II, Assassin's Creed® Brotherhood, en Assassin's Creed® Revelations en is gemaakt voor Xbox One en PlayStation®4.
Leef het leven van Ezio, leer de manieren van de Assassins en neem wraak voor het verraad van je familie. Het verhaal begint in 15de eeuw tijdens de Italiaanse Renaissance, gaat verder in de grootste stad van Italië, Rome, en eindigt in het 16e-eeuwse Constantinopel.
Assassin's Creed II – Ezio's verhaal begint wanneer jij de open wereld van de Italiaanse Renaissance ontdekt in een tijdperk van kunst, rijkdom en moorddadige samenzweringen.
Assassin's Creed Brotherhood – Reis door de grootste Italiaanse stad, Rome, het centrum van de macht, hebzucht en corruptie, als Ezio de leiding neemt over een heel Broederschap van Assassins.
Assassin's Creed Revelations – Twee Assassins, één lot. Neem deel aan Ezio's laatste avontuur wanneer hij in de voetsporen van zijn grote mentor, Altaïr, treedt en op ontdekkingsreis gaat naar het 16e-eeuwse Constantinopel en het hart van het Ottomaanse Rijk.
Kenmerken
LEEF EZIO'S COMPLETE LEVENSVERHAAL

Speel als Ezio, de meest iconische Assassin van de Assassin's Creed Franchise, tijdens zijn reis van jonge man tot de meest legendarische leider van het Assassin broederschap. De single-player campaigns en single-player uitbreidingen van de drie games zijn het speelveld van de zoektocht.
GEMAAKT VOOR DE NIEUWE GENERATIE

Beleef deze drie klassiekers op 1080p en 30fps dankzij de next-gen hardware-mogelijkheden en rekenkracht, die het verhaal beter tot leven brengt als nooit tevoren.
SPANNENDE GAME CONTENT EN BONUS FILMS

Geniet van alle drie de single-player campaigns en corresponderende single-player uitbreidingen en leer meer over het leven van Ezio met de korte films Assassin's Creed Lineage® en Assassin's Creed Embers™.

De beste gaming producten vind je met met de scherpste prijs bij PocketCubes
Specificaties:
Assassins Creed: The Ezio Collection – Ps4 (Import)
| | |
| --- | --- |
| Merk | Ubisoft |
| Online abonnement vereist | Geen abonnement vereist |
| Genre | Open wereld |
| Speleditie | Standard edition |
| Personage | Assassin's Creed |
| Gesproken taal | en, nl, fr |
| Format | Blu-ray |
| EAN | 3307215977408 |
| Doelgroep | Fanatieke gamer |
| Minimale leeftijd | 18 |
| Inhoud leeftijdsindicatie | Geweld |
| Platform | PlayStation 4 |
| Online multiplayer | Nee |
| Online optie | Ja |
| Splitscreen | Nee |
| Aantal spelers | 1 |
| Aantal spelers offline | 1 |
| Regio | PAL |
| Retour- en annuleerbeleid | Klik hiervoor op Retourneren onderaan deze pagina |
| Verpakking | Amaray |
| Ondertitels | Nederlands |
| Reparatie type | Carry-in |
| Speltype | Third Person |
| Talen container | nl |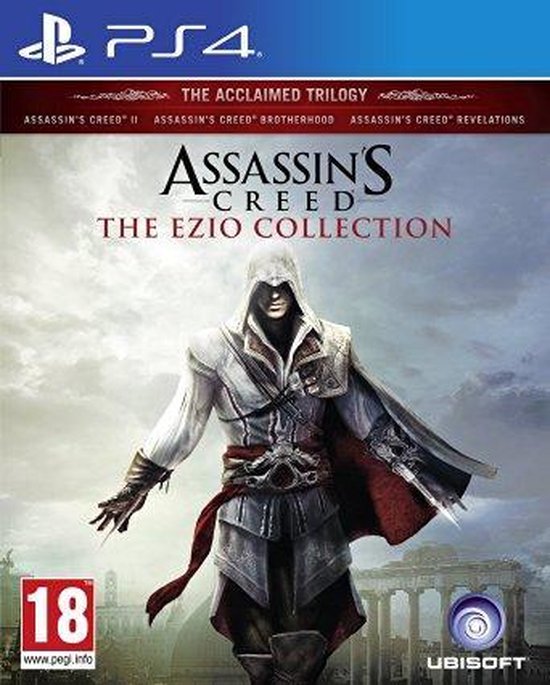 Assassins Creed: The Ezio Collection – Ps4 (Import)