Atelier Ryza 3: Alchemist of the End and the Secret Key – Nintendo Switch

Dit is Atelier Ryza 3 Alchemist of the End and the Secret Key voor de Nintendo Switch.
In de laatste zomer escapade genieten Ryza en haar vrienden van hun rustige leven op het eiland Kurken als ze het nieuws horen dat er een mysterieuze groep eilanden is verschenen in de nabijgelegen wateren. Het blijkt dat deze eilanden, bekend als Kark Eilanden, een negatief effect hebben op hun thuisland, dus Ryza en haar vrienden gaan snel op onderzoek uit. Maar wanneer hun onderzoek leidt naar een enorme poort diep in vreemde ruïnes, hoort Ryza een spookachtige stem in haar hoofd die haar naar de 'Code van het Universum' wil leiden. Wie praat er tegen haar en wat ligt er achter de poort?
Open veld
Terwijl ze de mysteries van Kark Isles ontdekken, verkennen Ryza en haar vrienden vier regio's in een nieuw "open veld" – allemaal te verkennen met naadloze overgangen! Terwijl spelers door deze prachtige en uitgestrekte landschappen en vergezichten reizen, vinden ze mysterieuze sleutels die hen zullen helpen tijdens hun avontuur. Er zijn verschillende soorten sleutels die kunnen worden gevonden en gemaakt, nuttig voor verkenning, synthese en strijd. Elke sleutel heeft een ander effect, dus spelers zullen willen proberen ermee te experimenteren, want de sleutels tot het ontsluiten van de geheimen van het eiland liggen nu in je handen.
Een combinatie van bekende en gloednieuwe personages
Bovendien worden spelers in Atelier Ryza 3: Alchemist of the End & the Secret Key herenigd met personages uit eerdere games, maar ook met nieuwe vrienden die cruciaal zijn voor het verhaal! In dit nieuwste deel komen in totaal elf groepsleden aan bod, een van de grootste roosters in de geschiedenis van de serie! Voor het derde zomeravontuur keren de betrouwbare en vriendelijke Ryza, de intelligente en hardwerkende Klaudia, de toegewijde ruïne-onderzoeker Tao en de nederige en oprechte Lent terug.
De beste gaming producten vind je met met de scherpste prijs bij PocketCubes
Specificaties:
Atelier Ryza 3: Alchemist of the End and the Secret Key – Nintendo Switch
| | |
| --- | --- |
| Merk | Koei |
| Reden leeftijd rating | Geen specifieke meldingen |
| Games genre | Japanse Role Playing Game (JRPG) |
| Type indicator | Standard edition |
| Personage | Geen personage |
| Type drager | Nintendo Switch card |
| Oorspronkelijke releasedatum | 23 februari 2023 |
| Target type gamer | Gezelschapsgamer, Fanatieke gamer, Kindergames, Vrijetijdsgamer |
| 4K-gaming ondersteuning | Nee |
| Game platform | Nintendo Switch |
| Online option games | Nee |
| Online co-op | Nee |
| Split screen | Nee |
| Aantal spelers offline | 1 |
| Regio games | Region Free |
| Type opbergcase | Amaray |
| Minimumleeftijd rating | 12 |
| Fabrieksgarantie termijn | Geen fabrieksgarantie |
| Verpakking hoogte | 11 mm |
| Verpakking lengte | 170 mm |
| Personage van toepassing | Nee |
| Reparatie type | Carry-in |
| Speltype | Fantasie |
| Talen container | en |
| Talen product | en |
| Verpakking breedte | 105 mm |
| Gewicht | 125 g |
| Gewonnen prijzen | Geen |
| Verpakkingsinhoud | Atelier Ryza 3: Alchemist of the End and the Secret Key – Nintendo Switch |
| Virtual Reality mogelijkheden | Niet geschikt voor VR |
| EAN | 5060327536953 |
| Categorieën | Videogames Games Nintendo Switch-games |
| Games platform | Nintendo Switch |
| PEGI-leeftijd | 12+ |
| Aanraders | Te reserveren |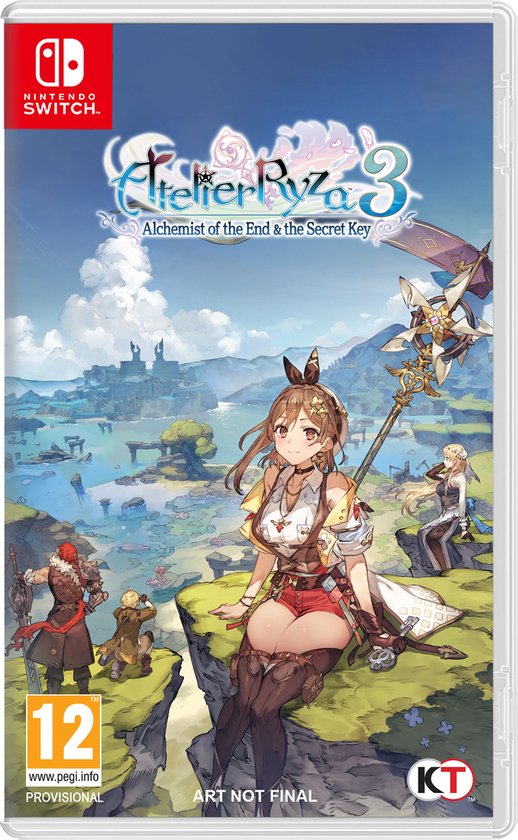 Atelier Ryza 3: Alchemist of the End and the Secret Key – Nintendo Switch