Awesomenauts – Collector's Edition – Windows

Awesomenauts Special Edition is de eerste versie van Awesomenauts die op een disc wordt uitgegeven. Naast het spel krijg je de soundtrack, de Costume Party downloadbare extra's, een extra code voor het spel die je weg kunt geven aan een van je vrienden en een mooie sticker!
Het jaar 3587; er heerst oorlog. Gigantische robot legers zijn verwikkeld in een eeuwige strijd. In een poging het heelal te veroveren roepen ze de hulp in van een machtige groep huurlingen: de Awesomenauts! Speel met één van de Awesomenauts and bestorm de online arena's alleen of met vrienden. Elke Awesomenaut kan worden verbeterd met hun eigen unieke items voor verschillende strategieën. Kijk uit naar reguliere updates met nieuwe items en Awesomenauts!
Spelers moeten het in teams tegen elkaar opnemen. Iedereen kiest een personage dat beschikt over unieke vaardigheden. Om de basis van de vijand te slopen, moeten eerst allerlei kanonnen onschadelijk gemaakt worden. Awesomenauts hangt in tussen een actiegame en een tactisch spel. Je moet goed kiezen wanneer je aanvalt, verdedigt of juist ondersteuning biedt aan je teamgenoten.

De beste gaming producten vind je met met de scherpste prijs bij PocketCubes
Specificaties:
Awesomenauts – Collector's Edition – Windows
| | |
| --- | --- |
| Merk | RONIMO |
| Splitscreen | Nee |
| Genre | Party |
| Speleditie | Standard edition |
| Gesproken taal | en |
| Format | CD-rom |
| EAN | 5060264370399 |
| Doelgroep | Fanatieke gamer |
| Minimale leeftijd | 12 |
| Online abonnement vereist | Geen abonnement vereist |
| Platform | Windows |
| Retour- en annuleerbeleid | Klik hiervoor op Retourneren onderaan deze pagina |
| Regio | Region Free |
| Verpakking | Amaray |
| Gewicht | 83.91 g |
| Gewonnen prijzen | Geen |
| Oorspronkelijke releasedatum | 2013-06-28 |
| Speltype | Side Scrolling |
| Talen container | en |
| Verpakking breedte | 19.30 cm |
| Verpakking hoogte | 1.91 cm |
| Verpakking lengte | 14.10 cm |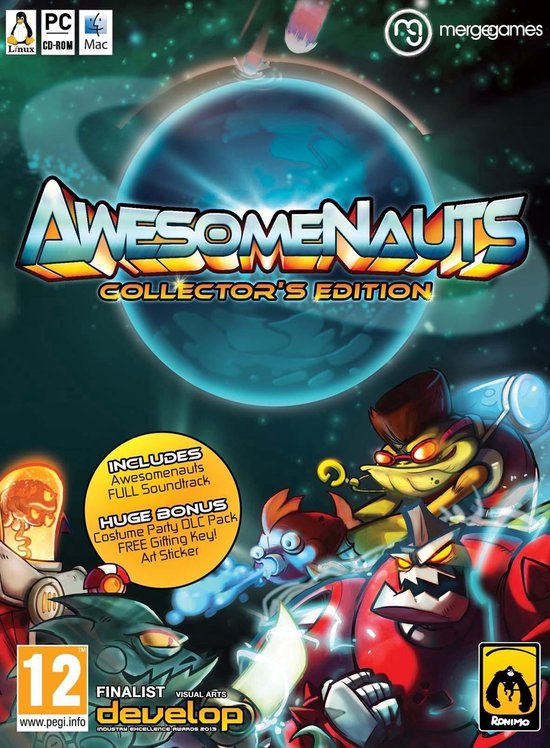 Awesomenauts – Collector's Edition – Windows