Call Of Duty: Black Ops – Hardened Edition

In 'Call of Duty: Black Ops' ben je onderdeel van de Black Ops. Deze speciale legereenheid wordt enkel ingezet voor zaken die het daglicht niet kunnen verdragen. Met een groepje tot de tanden toe bewapende specialisten ga je onder andere naar Cuba, de noordpool en de jungles van Vietnam om geheime missies uit te voeren.
'Call of Duty: Black Ops' laat je met allerlei originele wapens, zoals een kruisboog met scope of shotgun met explosieve Dragon's Breath kogels schieten. Je krijgt tevens een aantal voertuigsequenties voorgeschoteld waarbij je achter de stuurknuppel van een SR-71 Blackbird een grondeenheid escorteert of met een aanvalshelikopter een terroristische schuilplaats overhoop blaast. 'Call of Duty: Black Ops' biedt een ongekende hoeveelheid actie en spektakel!
Natuurlijk bevat 'Call of Duty: Black Ops' naast een spannende singleplayer campaign ook uitgebreide coöperatieve en competitieve multiplayer spelmodi. Zo kun je online uitdagende multiplayer levels verwachten waarbij voertuigen gebruikt kunnen worden om grote afstanden te overbruggen. Door tijd in de multiplayer modus te stoppen zul je in rang stijgen en steeds meer 'perks' en wapens vrijspelen. Je wordt constant beloond in'Call of Duty: Black Ops'!
Red de wereld zonder dat iemand het door heeft in 'Call of Duty: Black Ops'!
Hardened Edition Extra's
Een steelcase met de game
Black Ops Collector's Medal met display case
Vier extra in-game co-op maps
Een speciale PlayStation Home of Xbox Live-avatar
De beste gaming producten vind je met met de scherpste prijs bij PocketCubes
Specificaties:
Call Of Duty: Black Ops – Hardened Edition
| | |
| --- | --- |
| Merk | Activision |
| Regio | Region Free |
| Genre | Shooter |
| Speleditie | Standard edition |
| Gesproken taal | en |
| Format | Blu-ray |
| EAN | 5030917088780 |
| Doelgroep | Fanatieke gamer, Vrijetijdsgamer |
| Minimale leeftijd | 18 |
| Online optie | Ja |
| Platform | PlayStation 3 |
| Verpakking | Amaray |
| Retour- en annuleerbeleid | Klik hiervoor op Retourneren onderaan deze pagina |
| Fabrieksgarantie termijn | 3 maanden |
| Gewicht | 92.3 g |
| Gewonnen prijzen | Geen |
| Oorspronkelijke releasedatum | 2010-11-09 |
| Speltype | First Person |
| Talen container | en |
| Verpakking breedte | 13.5 cm |
| Verpakking hoogte | 1.78 cm |
| Verpakking lengte | 19 cm |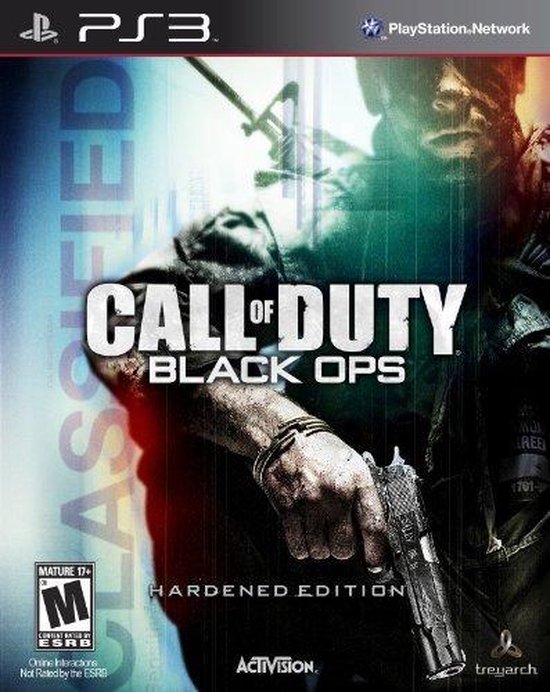 Call Of Duty: Black Ops – Hardened Edition