Controller Behuizing Shell – PlayStation 4 controller – Glacier White

Customize je PlayStation 4 Controller met onze PS4 Controller Shells. Deze Controller Shells zijn alleen geschikt voor de 4e en 5e generatie PS4 Controllers (GEN 4, 5). Controleer aan de hand van de extra afbeelding of jouw PS4 Controller geschikt is.
Wat krijg je?
Originele PlayStation 4 Dualshock V2 Controller Shells (voor- en achterkant)
3mm Schroevendraaier
Shell Opener
Belangrijk! Controleer ervoor of jouw Controller geschikt is voor onze Controller Shells. Zie de extra afbeelding bij de productinformatie voor meer informatie.
Controller Shells vervangen de huidige Shells van je Controller. Dit betekent dat je de Controller uit elkaar moet halen. Gebruik hiervoor een 3mm Schroevendraaier en Shell Opener.
Let op! Het vervangen van de Shells van je PlayStation 4 Controller is geheel op eigen risico. De garantie van je Controller zal wegens het demonteren komen te vervallen.
Opmerking: de PlayStation 4 Controller is niet inbegrepen.
De beste gaming producten vind je met met de scherpste prijs bij PocketCubes
Specificaties:
Controller Behuizing Shell – PlayStation 4 controller – Glacier White
| | |
| --- | --- |
| Game platform | PlayStation 4 |
| Personage | Geen personage |
| Kleur | Wit |
| EAN | 8720168203090 |
| Aanvullende functies | Het vervangen van je huidige behuizing. Dit kan komen doordat de huidige behuizing beschadigd, gebroken of vies is. Verder kan de behuizing (front & back shell) ook worden gebruikt voor het zelfstandig spuiten in een andere kleur! Ideaal voor DIY customisatie. *tip* gebruik eerste witte primer, dan je gewenste kleur(en), vervolgens afwerkingslaag (glossy, mat, soft touch). |
| Gewicht | 100 g |
| Model | Generatie 4, 5 model |
| Taal handleiding | Frans |
| Talen container | fr |
| Verpakking breedte | 20 cm |
| Verpakking hoogte | 5 cm |
| Verpakking lengte | 10 cm |
| Verpakkingsinhoud | Voor- en achterkant Shell opener 3mm schroevendraaier |
| Voedingstype | Geen voedingstype |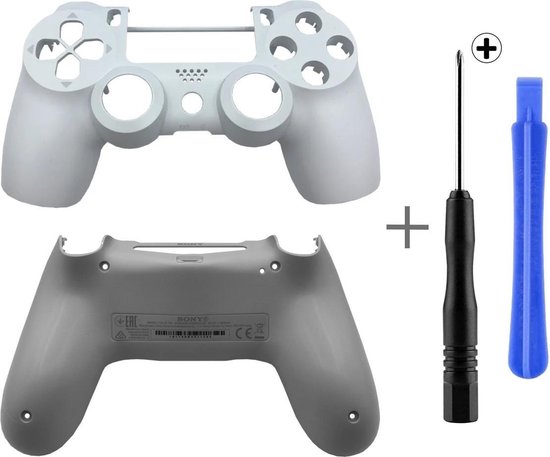 Controller Behuizing Shell – PlayStation 4 controller – Glacier White