Electronic Arts FIFA 11, PS3

De release van FIFA11 is de 19e titel in de Fifa game serie, tevens is FIFA werelds best verkopende sport game. FIFA11 bevat 30 officiele gelicenseerde competities, 500 gelicenseerde teams en meer dan 15.000 spelers. FIFA11 bezorgt de ultieme, meest autentieke voetbal ervaring beschikbaar.
In FIFA 11 zullen de voetballers zich nog levensechter gedragen op elke positie op het veld, of ze nu in balbezit zijn of niet. De nieuwe functie Personality+ zorgt voor individuele vaardigheden, waardoor elke speler uniek wordt en nog beter is te onderscheiden van de andere spelers op het veld.
Met Personality+ worden individuele vaardigheden van voetballers levensecht in de game gezet, waardoor echte, unieke persoonlijkheden ontstaan. Dankzij de geavanceerde database met meer dan 36 eigenschappen en 57 kenmerken, die wereldwijd door 1700 scouts worden verzameld, is elke voetballer weer compleet anders.

De beste gaming producten vind je met met de scherpste prijs bij PocketCubes
Specificaties:
Electronic Arts FIFA 11, PS3
| | |
| --- | --- |
| Merk | Electronic Arts |
| Platform | PlayStation 3 |
| Genre | Sport |
| Speleditie | Standard edition |
| Personage | FIFA |
| Gesproken taal | en, nl |
| Format | Blu-ray |
| EAN | 5030943092324 |
| Doelgroep | Gezelschapsgamer |
| Minimale leeftijd | 3 |
| Inhoud leeftijdsindicatie | Geen specifieke meldingen |
| Online abonnement vereist | Geen abonnement vereist |
| Online optie | Ja |
| Splitscreen | Nee |
| Aantal spelers | 2 |
| Aantal spelers offline | 2 |
| Regio | PAL |
| Systeemeisen | Sony PlayStation 3 console + controller(s). Werkt niet op een PlayStation 2 of 4! |
| Retour- en annuleerbeleid | Klik hiervoor op Retourneren onderaan deze pagina |
| Verpakking | Box |
| 4K-gaming ondersteuning | Nee |
| Gewicht | 92.3 g |
| Gewonnen prijzen | Geen |
| Oorspronkelijke releasedatum | 2011-04-11 |
| Speltype | Voetbal |
| Talen container | en |
| Verpakking breedte | 13.5 cm |
| Verpakking hoogte | 1.78 cm |
| Verpakking lengte | 19 cm |
| Verpakkingsinhoud | XBOX 360 game |
| Virtual Reality mogelijkheden | Niet geschikt voor VR |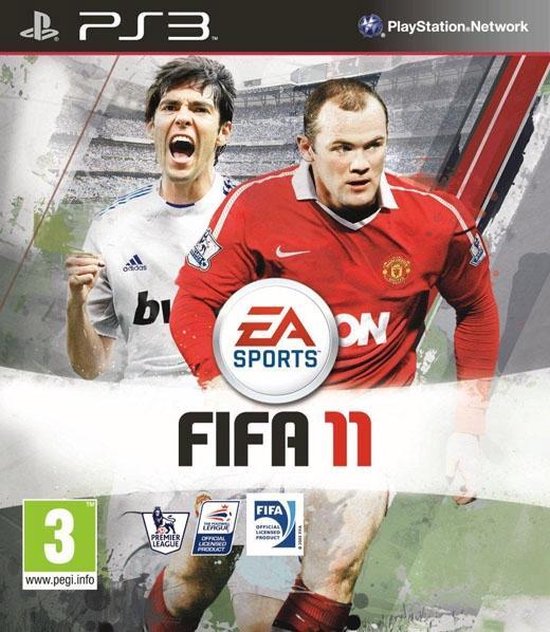 Electronic Arts FIFA 11, PS3