Emily Archer And The Curse Of Tutankhamun /NDS

De beroemde privédetective Emily Archer wordt ingeschakeld door haar goede vriendin Lady Almina, om de dood van haar echtgenoot te onderzoeken. Over de dood van Lord Carnarvon, de financier van Egyptoloog Howard Carter bij de ontdekking van Koning Toetanchamon's graftombe, wordt gezegd dat de oorzaak een infectie was na een muggenbeet. De kranten zijn zelfs nog een stap verder gegaan door hem het slachtoffer van "De Vloek van de Farao" te noemen. Durf jij het mysterie in Emily Archer: The Curse of King Tut's Tomb te ontrafelen?
In Emily Archer and the Curse Of Tutankhamen moet je mysterieuze voorwerpen zoeken en aanklikken als je ze hebt gevonden. Aan jou de taak om tussen allerlei objecten de juiste voorwerpen te vinden. Kan jij alles binnen de tijd opsporen?
Emily Archer and the Curse Of Tutankhamen bevat naast spannende zoek&vind-actie ook een leuke verzameling mini-games. Zo wordt het volgen van een boeiende verhaallijn en zoeken naar verborgen objecten op leuke wijze afgewisseld met interessante mini-games!
Ontrafel het mysterie in Emily Archer: The Curse of King Tut's Tomb!

De beste gaming producten vind je met met de scherpste prijs bij PocketCubes
Specificaties:
Emily Archer And The Curse Of Tutankhamun /NDS
| | |
| --- | --- |
| Merk | Mastertronic |
| Platform | Nintendo 3DS |
| Genre | Actie |
| Speleditie | Standard edition |
| Gesproken taal | en |
| Format | DS-card |
| EAN | 5050740024243 |
| Doelgroep | Vrijetijdsgamer |
| Minimale leeftijd | 3 |
| Online abonnement vereist | Geen abonnement vereist |
| Regio | PAL |
| Systeemeisen | Nintendo 2DS, 3DS of 3DS XL handheld console |
| Retour- en annuleerbeleid | Klik hiervoor op Retourneren onderaan deze pagina |
| Verpakking | Jewelcase |
| Gewicht | 92.3 g |
| Gewonnen prijzen | Geen |
| Speltype | Point and Click |
| Talen container | en |
| Verpakking breedte | 13.5 cm |
| Verpakking hoogte | 1.78 cm |
| Verpakking lengte | 19 cm |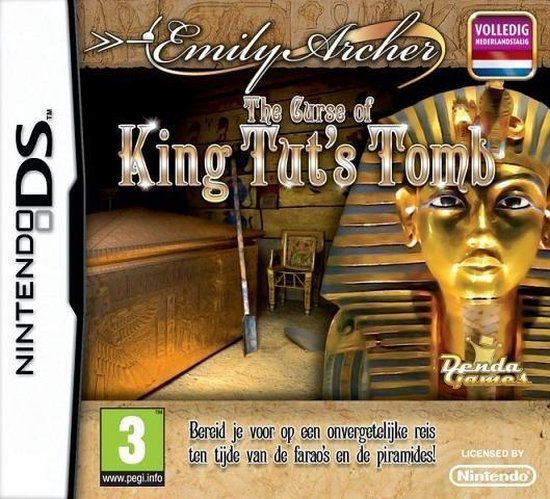 Emily Archer And The Curse Of Tutankhamun /NDS