Enclave, Shadows of Twilight Wii

Het einde is onvermijdelijk. De Prins der Duisternis staat op het punt van een klinkende overwinning op het gesloopte leger van Celenheim. Alleen, plotseling, duikte er een tovenaar op. Gekleed in een gewaad staat hij op de berg die uitkijkt over het gevecht. Klaar om nog één keer het gevecht aan te gaan met de heerser van de demonen. Met een krachtige spreuk wordt goed van kwaad gescheiden, de wereld is verdeeld in twee delen.
In Enclave: Shadows of Twilight vind je dus twee werelden. Aan de ene kant vind je de Enclave of Light ofwel de mensen van Celenheim. Aan de andere kant de duistere monsters, de Outlanders. Tussen hen zit een gigantische kloof. Het was even rustig, maar de Outlanders vallen weer aan. De speler moet in Enclave: Shadows of Twilight de rol van de redder spelen.
In Enclave: Shadows of Twilight krijgt de speler 25 missies voor zijn kiezen waarin gevochten moet worden. Daarnaast zijn er twee verhaallijnen, één voor elke factie. De speler heeft een keuze uit twaalf speelbare personages, en het spel is te spelen op diverse moeilijkheidsgraden.
Maak je klaar voor de beslissing in de epische strijd tussen goed en kwaad!

De beste gaming producten vind je met korting bij PocketCubes
Specificaties:
Enclave, Shadows of Twilight Wii
| | |
| --- | --- |
| Merk | Bigben |
| Online optie | Ja |
| Genre | Actie |
| Speleditie | Standard edition |
| Gesproken taal | en |
| Format | Dvd-rom |
| EAN | 4250230230074 |
| Doelgroep | Fanatieke gamer |
| Minimale leeftijd | 16 |
| Inhoud leeftijdsindicatie | Geweld |
| Online abonnement vereist | Geen abonnement vereist |
| Platform | Nintendo Wii |
| Systeemeisen | Nintendo Wii of Wii mini console + controller(s) |
| Regio | PAL |
| Retour- en annuleerbeleid | Klik hiervoor op Retourneren onderaan deze pagina |
| Verpakking | Amaray |
| Gewicht | 164 g |
| Gewonnen prijzen | Geen |
| Oorspronkelijke releasedatum | 2011-06-30 |
| Speltype | Third Person |
| Talen container | fr |
| Verpakking breedte | 22.50 cm |
| Verpakking hoogte | 2.10 cm |
| Verpakking lengte | 23.80 cm |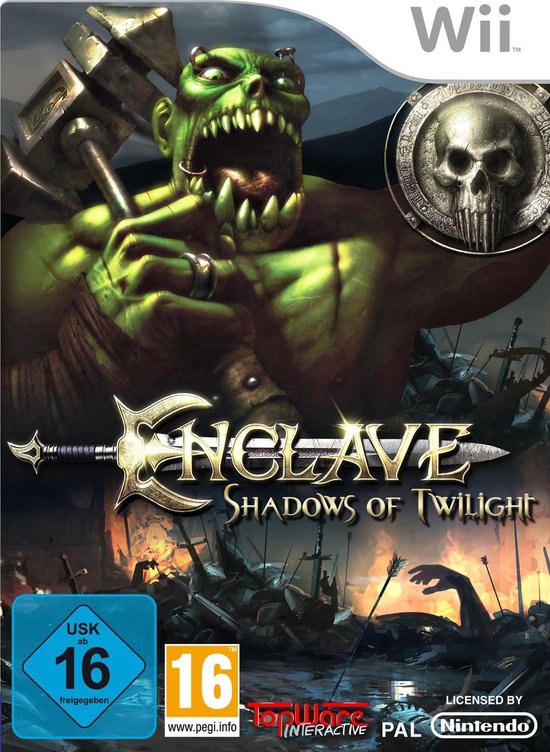 Enclave, Shadows of Twilight Wii