Gaming Toetsenborden Keycap verwijderen & Keycaps Schakelaar Puller – 2 op 1 Mechanical keyboard keycap remover and switch remover in 1 tool
Gaming Toetsenborden Keycap verwijderen & Keycaps Schakelaar Puller – 2 op 1 Mechanical keyboard keycap remover and switch remover in 1 tool
Toetsenbordverwijderaar en toetsenbordtrekker samen.

Deze tool combineert 2 in 1.

Geschikt voor de meeste mechanische toetsenborden.
– Kleur: Zwart.

– Materiaal: metaal

– Grootte: ca. 12,5 Lengte

– Keycap remover: 2 cm breed

– Schakelverwijderaar/IC-verwijderaar-chipverwijderaar: 1 cm breed

– Gemaakt van metaal, duurzamer en gebruiksvriendelijker.

– De draden op de trekker kunnen naar buiten buigen om mechanische (en andere) keycaps te monteren.
———————————————————————————————————————

Keycap remover and keyboard switch puller together.

This tool will combine 2 in 1.

Suitable for most of the mechanical keyboards.
– Color: Black.

– Material: metal

– Size: approx. 12.5 Length

– Keycap remover: 2 cm wide

– Switch remover/IC remover chip remover: 1 cm wide

– Made of metal, more durable and easy to use.

– The wires on the puller can bend outwards to fit mechanical (and other) keycaps.

De beste gaming producten vind je met korting bij PocketCubes
Specificaties:
Gaming Toetsenborden Keycap verwijderen & Keycaps Schakelaar Puller – 2 op 1 Mechanical keyboard keycap remover and switch remover in 1 tool
| | |
| --- | --- |
| Merk | JBT Global |
| Mpn | KR318 |
| Model | KR318 |
| EAN | 7422251521548 |
| Afmetingen (l x b x h) | 13 x 18 x 10 cm (lxbxh) |
| Kleur | Zwart |
| Toetsenbord indeling | QWERTZ |
| Taal toetsenbordindeling | EU Layout |
| Type mechanische toetsen | Universal |
| Multimediasneltoetsen | Nee |
| Vlakke toetsen | Nee |
| Type toetsenbord | Mechanische toetsen |
| Per toets apart verlicht | Nee |
| Numeriek keypad | Ja |
| Toetsenbordverbinding | Bedraad |
| Systeemeisen | Mechanical Toetsenborden |
| Draadloos | Nee |
| Fabrieksgarantie termijn | Geen fabrieksgarantie |
| Game platform | iOS |
| Geschikt voor gamen | Ja |
| Gewicht | 16 g |
| Instelbare verlichting | Nee |
| Met display | Nee |
| Oplaadbaar | Nee |
| Product gewicht | 9 g |
| Reparatie type | Carry-in |
| Taal handleiding | Universeel |
| Type verlichting | Zonder verlichting |
| Uitzonderingen fabrieksgarantie | Nee |
| Verlichting | Nee |
| Verpakking breedte | 17 cm |
| Verpakking hoogte | 2 cm |
| Verpakking lengte | 23 cm |
1 recensie voor
Gaming Toetsenborden Keycap verwijderen & Keycaps Schakelaar Puller – 2 op 1 Mechanical keyboard keycap remover and switch remover in 1 tool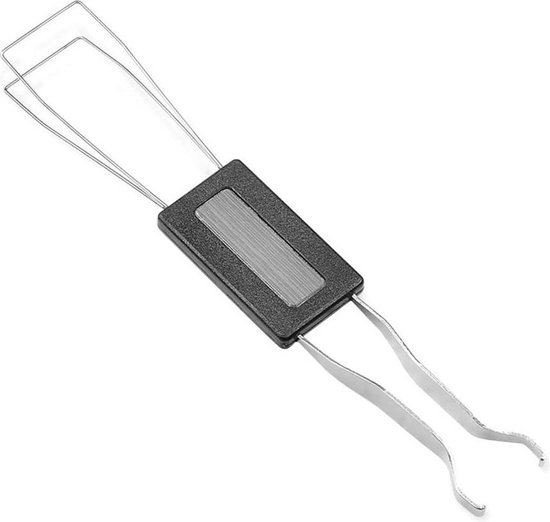 Gaming Toetsenborden Keycap verwijderen & Keycaps Schakelaar Puller – 2 op 1 Mechanical keyboard keycap remover and switch remover in 1 tool