Green Lantern: Rise of the Manhunters

Green Lantern: Rise of the Manhunters is geïnspireerd op de speelfilm, die de immer populaire DC Comics-superheld voor de eerste keer naar het witte doek brengt, met in de hoofdrol Ryan Reynolds als Hal Jordan, het nieuwste lid van het Green Lantern Corps. In de videogame kunnen spelers naar de verste delen van het universum vliegen om de intergalactische orde te herstellen door gebruik te maken van het ultieme wapen: de Green Lantern-power ring.
Green Lantern: Rise of the Manhunters geeft spelers de kans om de wereld van de Green Lantern mythologie op een interactieve manier te ervaren. Het is jouw taak de Manhunters, een buitenaards ras, te verslaan. Je moet wel, want zij willen het gehele Green Lantern Corps uitroeien.
Door gebruik te maken van de Green Lantern-ring ontwikkel je langzaam maar zeker nieuwe krachten. Zo krijg je op een gegeven moment grote geweren, gigantische vuisten en kan je deze krachten in combinatie met elkaar gebruiken. Natuurlijk kan je ook samen met een vriend spelen, waarbij de een Hal Jordan en de ander Sinestro speelt.
Het 3D-scherm van de Nintendo 3DS wordt optimaal gebruikt om de sfeer van de film zou getrouw mogelijk over te brengen. Het 3D-effect is echter niet verplicht om de game te kunnen spelen.
Red de aarde met jouw technologische superkrachten!

De beste gaming producten vind je met korting bij PocketCubes
Specificaties:
Green Lantern: Rise of the Manhunters
| | |
| --- | --- |
| Merk | Warner Bros Home Entertainment |
| Splitscreen | Nee |
| Genre | Avontuur, Role Playing Game (RPG) |
| Speleditie | Standard edition |
| Gesproken taal | nl |
| Format | N/A |
| EAN | 5051888076644 |
| Doelgroep | Fanatieke gamer |
| Minimale leeftijd | 12 |
| Inhoud leeftijdsindicatie | Geweld |
| Online abonnement vereist | Geen abonnement vereist |
| Online optie | Ja |
| Platform | Nintendo 3DS |
| Systeemeisen | Nintendo 2DS, 3DS of 3DS XL handheld console |
| Regio | PAL |
| Retour- en annuleerbeleid | Klik hiervoor op Retourneren onderaan deze pagina |
| Verpakking | Amaray |
| Fabrieksgarantie termijn | 6 maanden |
| Gewicht | 73 g |
| Gewonnen prijzen | Geen |
| Oorspronkelijke releasedatum | 2011-06-07 |
| Speltype | Third Person |
| Talen container | nl |
| Verpakking breedte | 139 mm |
| Verpakking hoogte | 15 mm |
| Verpakking lengte | 125 mm |
1 recensie voor
Green Lantern: Rise of the Manhunters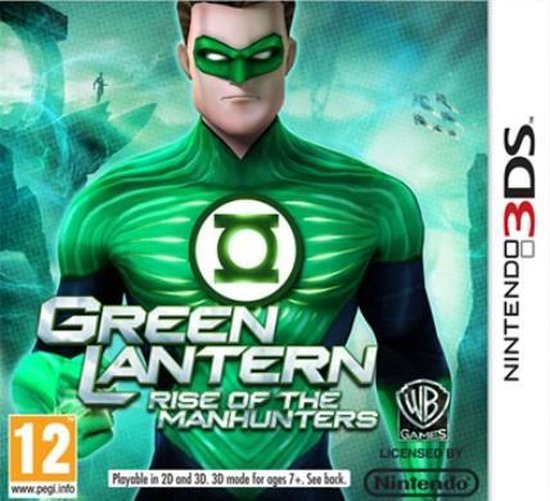 Green Lantern: Rise of the Manhunters