I'm A Celebrity, Get Me Out Of Here Wii

I'm a Celebrity, Get Me Out of Here! biedt jou de mogelijk om samen met je vrienden diverse kleine uitdagingen aan te gaan. Je zit ergens diep in de jungle met een groep beroemdheden en natuurlijk wil eigenlijk niemand daar echt zijn. Jouw dapperheid, doorzettingsvermogen en intelligentie worden flink op de proef gesteld.
Het is aan jou de taak om het kamp, de erbarmelijke omstandigheden en de uitdagingen te doorstaan. Vergelijk I'm a Celebrity, Get Me Out of Here! maar met een virtuele versie van Expeditie Robinson. Zorg dat je niet geëlimineerd wordt en kom als winnaar uit de bus!
Als extra is het mogelijk om enkele uitdagingen met behulp van het Wii-balance board te spelen. Zo moet jij je balans houden op de los te verkrijgen Wii-balance board.
In totaal schotelt I'm a Celebrity, Get Me Out of Here! jou 24 verschillende spelletjes voor verspreid over zeven verschillende uitdagingen. Daarnaast bevat de game vijf verschillende minigames om nog meer spelplezier uit deze game te halen.
Ik ben een beroemdheid, haal me weg uit deze jungle!

De beste gaming producten vind je met korting bij PocketCubes
Specificaties:
I'm A Celebrity, Get Me Out Of Here Wii
| | |
| --- | --- |
| Merk | Koch Media |
| Splitscreen | Nee |
| Genre | Actie |
| Speleditie | Standard edition |
| Gesproken taal | en |
| Format | Dvd-rom |
| EAN | 5390102504106 |
| Doelgroep | Kindergames |
| Minimale leeftijd | 3 |
| Online abonnement vereist | Geen abonnement vereist |
| Platform | Nintendo Wii |
| Systeemeisen | Nintendo Wii of Wii mini console + controller(s) |
| Regio | PAL |
| Retour- en annuleerbeleid | Klik hiervoor op Retourneren onderaan deze pagina |
| Verpakking | Amaray |
| Gewicht | 92.3 g |
| Gewonnen prijzen | Geen |
| Speltype | Quiz |
| Talen container | en |
| Verpakking breedte | 13.5 cm |
| Verpakking hoogte | 1.78 cm |
| Verpakking lengte | 19 cm |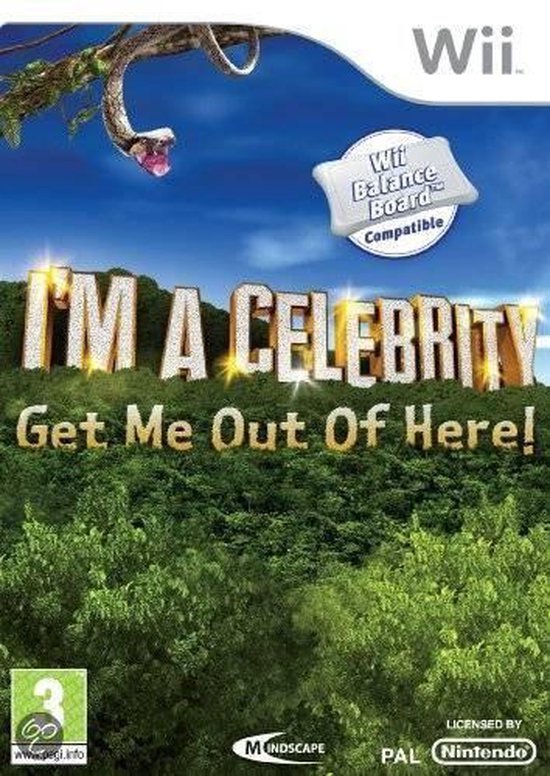 I'm A Celebrity, Get Me Out Of Here Wii