James Bond: Quantum of Solace

James Bond 007: Quantom of Solace is de eerste James Bond game die op naam staat van uitgever Activision. In deze nieuwe Bond-game worden we meegenomen naar verschillende locaties op de wereld. Onder andere Bolivia, Sienna (Italië), Montenegro (Servië), Wenen (Oostenrijk), Londen (Verenigd Koninkrijk) en het tropische eiland Madagascar behoren tot de plekken waar we met James Bond in de actie worden geplaatst.
James Bond 007: Quantum of Solace is het spel dat de link vormt tussen twee Bond-films. Hoewel er tussen Casino Royale en Quantum of Solace weinig ruimte zit, blijven er nog een paar vragen onbeantwoord en deze vragen worden juist beantwoord in de game.
In James Bond 007: Quantum of Solace stap jij in de schoenen van Daniel Craig en mag jij gaan schieten alsof je leven er vanaf hangt. In deze nieuwe Bond-game krijg je de keuze om stilletjes te sluipen of om met veel geweld de kamer binnen te vallen. Dat laatste lijkt doorgaans de beste oplossing te zijn, want met Daniel Craig in rol van James Bond is de actie alleen maar harder geworden!

De beste gaming producten vind je met met de scherpste prijs bij PocketCubes
Specificaties:
James Bond: Quantum of Solace
| | |
| --- | --- |
| Merk | Activision |
| Platform | PlayStation 3 |
| Genre | Actie |
| Speleditie | Standard edition |
| Personage | James Bond |
| Gesproken taal | en |
| Format | Blu-ray |
| EAN | 5030917061431 |
| Doelgroep | Fanatieke gamer |
| Minimale leeftijd | 16 |
| Inhoud leeftijdsindicatie | Geen specifieke meldingen |
| Online abonnement vereist | Geen abonnement vereist |
| Online optie | Nee |
| Online multiplayer | Nee |
| Splitscreen | Nee |
| Aantal spelers | 4 |
| Aantal spelers offline | 1 |
| Regio | Region Free |
| Systeemeisen | Sony PlayStation 3 console + controller(s). Werkt niet op een PlayStation 2 of 4! |
| Retour- en annuleerbeleid | Klik hiervoor op Retourneren onderaan deze pagina |
| Verpakking | Amaray |
| 4K-gaming ondersteuning | Nee |
| Fabrieksgarantie termijn | 3 maanden |
| Gewicht | 92.3 g |
| Gewonnen prijzen | Geen |
| Speltype | Sluipen |
| Talen container | en |
| Verpakking breedte | 13.5 cm |
| Verpakking hoogte | 1.78 cm |
| Verpakking lengte | 19 cm |
| Virtual Reality mogelijkheden | Niet geschikt voor VR |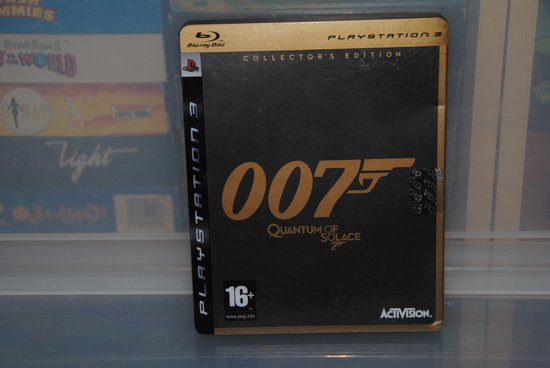 James Bond: Quantum of Solace