Life is Strange: Before the Storm: Deluxe Edition – Xbox One Download

Life Is Strange: Before the Storm, is een driedelig, gloednieuw standalone avonturenverhaal, van de met een BAFTA bekroonde serie, Life is Strange. Je kruipt in de huid van Chloe Price, die een onwaarschijnlijke vriendschap sluit met Rachel Amber, een knappe en populaire meid, voorbestemd voor succes. Wanneer een familiegeheim Rachels wereld op z'n kop zet, moeten ze de handen in elkaar slaan om elkaar de steun te geven om hun demonen te overwinnen. Bonus-episode: Farewell – Speel een allerlaatste keer als een jonge Max Caulfield in een speciale bonus-episode… Exclusieve Nieuwe Mixtape Modus Ontwerp je eigen afspeellijst met de Life is Strange gelicentieerde soundtrack en beluister hem tijdens een filmscene uit het spel. Exclusief outfit pack – Verander Chloe's look met drie volledig nieuwe outfits. Bevat Punk Doe, Hawt Dawg Man + Illuminati outfits. Life is Strange: Before The Storm 2017 Square Enix Ltd. All Rights Reserved. LIFE IS STRANGE and LIFE IS STRANGE: BEFORE THE STORM are registered trademarks or trademarks of Square Enix Ltd.
Bij aankoop van dit product ga je ermee akkoord dat je nog gevraagd kunt worden om, voorafgaand aan het downloaden van het product, licentievoorwaarden van de leverancier van dit product te accepteren
Xbox One X enhanced
Xbox One X enhanced

Life is Strange is speciaal gemaakt om het volledige potentieel van Xbox One X te benutten. Hierdoor heb je adembenemende details, betere performance met snellere laadtijden en hogere resolutie en stabielere en hogere framerates.
4K Ultra HD

Life is Strange wordt uitgevoerd op 2160P. Dit is de echte 4K-resolutie waardoor je helderder beeld hebt dan ooit tevoren. Om de maximale resolutie te zien heb je een 4K-televisie nodig.

De beste gaming producten vind je met korting bij PocketCubes
Specificaties:
Life is Strange: Before the Storm: Deluxe Edition – Xbox One Download
| | |
| --- | --- |
| Merk | Microsoft |
| Platform | Xbox One download |
| Genre | Avontuur |
| Speleditie | Deluxe edition |
| Personage | Geen personage |
| Gesproken taal | en |
| Format | Digitaal download |
| EAN | 8806188730966 |
| Doelgroep | Vrijetijdsgamer |
| Minimale leeftijd | 16 |
| Inhoud leeftijdsindicatie | Geen specifieke meldingen |
| Online abonnement vereist | Geen abonnement vereist |
| Splitscreen | Nee |
| Aantal spelers offline | 1 |
| Regio | Region Free |
| Systeemeisen | Xbox One |
| Retour- en annuleerbeleid | Dit product kan niet geretourneerd of geannuleerd worden |
| 4K-gaming ondersteuning | Nee |
| Fabrieksgarantie termijn | Geen fabrieksgarantie |
| Gewicht | 0 g |
| Gewonnen prijzen | Geen |
| Ondertitels | Engels |
| Oorspronkelijke releasedatum | 2017-08-31 |
| Reparatie type | Carry-in |
| Speltype | Fantasie |
| Talen container | en |
| Type opbergcase | Download |
| Uitzonderingen fabrieksgarantie | Nee |
| Verpakking breedte | 0 cm |
| Verpakking hoogte | 0 cm |
| Verpakking lengte | 0 cm |
| Verpakkingsinhoud | Digitale code van betrefffende game |
| Virtual Reality mogelijkheden | Niet geschikt voor VR |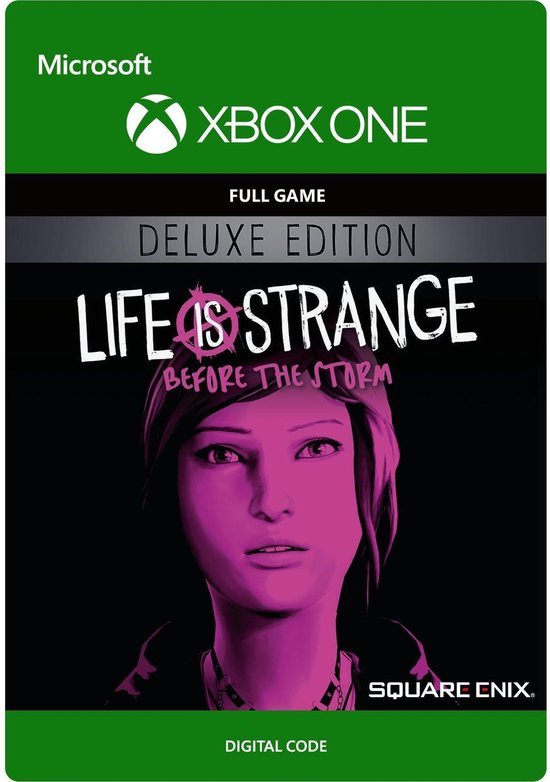 Life is Strange: Before the Storm: Deluxe Edition – Xbox One Download