Metal Gear Solid 4 Guns of the Patriots

Metal Gear Solid 4: Guns of the Patriots is het laatste deel van Hideo Kojima's Metal Gear Solid-reeks. De game speelt zich af in een door oorlog geteisterde toekomst, waarin gigantische bedrijven de beste huurlingen gebruiken om de macht te grijpen.
Je bekijkt deze verwoeste wereld door de ogen van een oude Solid Snake die genoeg heeft van oorlog. Zijn opdracht, het infiltreren van enkele belangrijke locaties over de hele wereld, brengt hem naar het Midden-Oosten en Zuid-Amerika.
Tijdens het heldhaftige slotakkoord van Snake's verhaal worden de losse eindjes aan elkaar geknoopt en de belangrijkste verhaallijnen afgerond. Je maakt gebruik van een vernieuwend vechtsysteem en een verbeterd besturingssysteem, waarmee je een ongeevenaarde controle hebt over de oude Snake.

De beste gaming producten vind je met korting bij PocketCubes
Specificaties:
Metal Gear Solid 4 Guns of the Patriots
| | |
| --- | --- |
| Merk | Konami |
| Online abonnement vereist | PlayStation Plus |
| Genre | Actie, Avontuur, Role Playing Game (RPG), Vecht |
| Speleditie | Standard edition |
| Gesproken taal | en |
| Format | Blu-ray |
| EAN | 4012927050125 |
| Doelgroep | Fanatieke gamer, Vrijetijdsgamer |
| Minimale leeftijd | 18 |
| Inhoud leeftijdsindicatie | Geen specifieke meldingen |
| Platform | PlayStation 3 |
| Online multiplayer | Nee |
| Online optie | Nee |
| Splitscreen | Nee |
| Aantal spelers offline | 1 |
| Regio | PAL |
| Retour- en annuleerbeleid | Klik hiervoor op Retourneren onderaan deze pagina |
| Verpakking | Amaray |
| 4K-gaming ondersteuning | Nee |
| Speltype | Behendigheid |
| Talen container | nl |
| Virtual Reality mogelijkheden | Niet geschikt voor VR |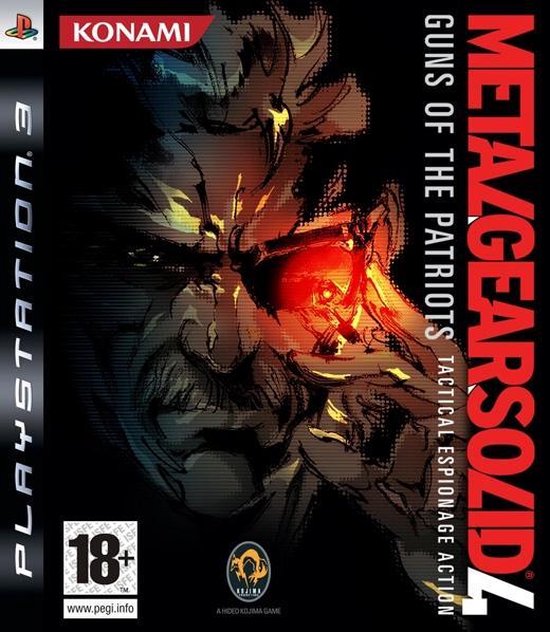 Metal Gear Solid 4 Guns of the Patriots