MMOBIEL Oplaadpoort voor PlayStation PS4 Controller Dualshock 4 Model: JDS-011

Hoogwaardige vervangende PlayStation USB-stekkerdoosadapter voor de oplaadpoort van het PlayStation PS4-model: JDS-011 met 12-pins flex lintkabel. Vervangingsonderdeel voor de draadloze controller DualShock 4 V1 Tweede generatie PlayStation PS4 console CUH-11XX volledige serie.
Compatibiliteit: Alleen geschikt voor Sony PlayStation PS4 Console CUH-1100, CUH-1115A, CUH-1115B.
Herinnering: Sony heeft de 5e editie van deze DualShock 4 controller gelanceerd. Elk model wordt geleverd met een andere ingebouwde laadmodule. Het is sterk aanbevolen om de uwe te controleren voordat u een bestelling plaatst. Demonteer uw controller, vergelijk uw oplaadpoort en kies de juiste: JDS-001, JDS-011, JDS-030, JDS-040 / FJDS-040 of de laatste editie van 050 of 055.
De kit bestaat uit: 1x Micro-USB laadpoort aansluiting JDS-011. 1x 12 Pin flex lintkabel. 1x (+) Schroevendraaier. Voor het uitvoeren van deze reparatie, raden we u aan om proffesioneel hulp te zoeken.
Hoogwaardig product van MMOBIEL. Elk onderdeel wordt voor verzending gecontroleerd! Dit product is op voorraad en wordt verzonden vanuit Nederland!
De beste gaming producten vind je met korting bij PocketCubes
Specificaties:
MMOBIEL Oplaadpoort voor PlayStation PS4 Controller Dualshock 4 Model: JDS-011
| | |
| --- | --- |
| Merk | MMOBIEL |
| Retour- en annuleerbeleid | Klik hiervoor op Retourneren onderaan deze pagina |
| Kleur | Niet van toepassing |
| Personage | Geen personage |
| EAN | 8720011022656 |
| Draadloos | Nee |
| Bluetooth | Nee |
| Oplaadbaar | Nee |
| Luidsprekers | Nee |
| Touchscreen | Nee |
| Gewicht | 50 gram |
| Platform | PlayStation, PlayStation 4 |
| MPN (Manufacturer Part Number) | – |
| Knoppen programma | Nee |
| Oplaadtijd | 60 min |
| Taal handleiding | Geen taal |
| Talen container | nl |
| Type input/output | Micro-USB |
| Verpakking breedte | 10 cm |
| Verpakking hoogte | 2 cm |
| Verpakking lengte | 15 cm |
| Verpakkingsinhoud | MMOBIEL Oplaadpoort Dock Connector voor PlayStation PS4 Controller Dualshock 4 – V1 Model: JDS-011 Inclusief (+) Schroevendraaier |
| Voedingstype | Accu |
| Weergave batterijstatus | Nee |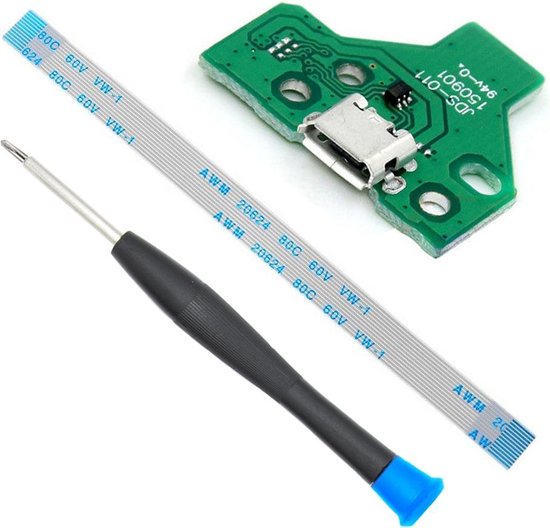 MMOBIEL Oplaadpoort voor PlayStation PS4 Controller Dualshock 4 Model: JDS-011