Monster 4X4 World Circuit

Let op: gebruikte versie wordt geleverd zonder stuurwiel.
Gebruik in Monster 4×4 World Circuit de Wii-afstandsbediening om spectaculaire stunts, sprongen en snelheid te maken met de meest krachtige Monsters Truck. Naarmate je meer races wint en meer geld verdient kun je jouw truck naar eigen smaak aanpassen. Daarbij kun je kiezen of je je truck mooier, of beter maakt.
Er zijn meer dan veertig verschillende circuits verdeeld over verschillende locaties. De ene keer zit je in de woestijn, de keer daarop in de stad of misschien rijd je wel over een ijsvlakte. Het spel is in je eentje te spelen of samen met maximaal drie vrienden.

De beste gaming producten vind je met met de scherpste prijs bij PocketCubes
Specificaties:
Monster 4X4 World Circuit
| | |
| --- | --- |
| Merk | Ubisoft |
| Online abonnement vereist | Game specifiek abonnement |
| Genre | Actie, Avontuur, Race |
| Speleditie | Standard edition |
| Gesproken taal | en |
| Format | CD-rom |
| EAN | 3307210237286 |
| Doelgroep | Fanatieke gamer, Gezelschapsgamer, Kindergames, Vrijetijdsgamer |
| Minimale leeftijd | 3 |
| Inhoud leeftijdsindicatie | Geen specifieke meldingen |
| Platform | Nintendo Wii |
| Online multiplayer | Nee |
| Online optie | Nee |
| Splitscreen | Ja |
| Aantal spelers offline | 4 |
| Regio | PAL |
| Retour- en annuleerbeleid | Klik hiervoor op Retourneren onderaan deze pagina |
| Verpakking | Amaray |
| 4K-gaming ondersteuning | Nee |
| Speltype | Off-road |
| Talen container | nl |
| Virtual Reality mogelijkheden | Niet geschikt voor VR |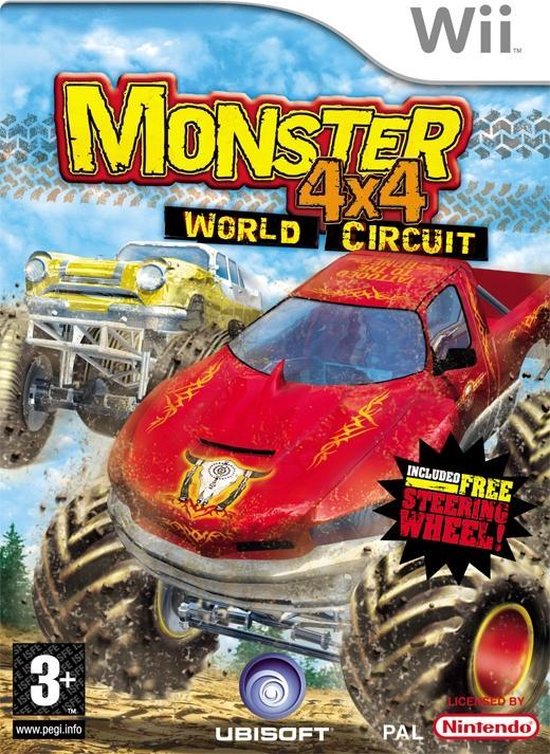 Monster 4X4 World Circuit