NSW Dragons: Dawn of New Riders – Switch

A new heroic dragon and rider are taking to the skies and only you can help them defeat the evil villains who destroyed a dragon sanctuary created by Hiccup and Toothless. When the island of Havenholme is found in ruins, mysterious survivors emerge as unlikely future heroes. Scribbler is a scholar who cannot remember his past while Patch is a unique breed of dragon, a "chimeragon," who harnesses new, unexpected powers they both discover along the way. Together they must explore new islands, battle fierce enemies, and piece together lost memories that will reveal the strange truth about Patch's origin and why the villain, Eir, will stop at nothing to recapture him.
Prepare for a story of fire and friendship that you won't forget. Meet your favourite DreamWorks Dragons characters like Hiccup, Astrid, Gobber and more. Complete quests in locations like Valka's Mountain, alongside a host of newly discovered islands, such as Blood Briar Island. Go up against fearsome boss dragons and defeat the Dragon Trappers who will stop at nothing to capture Patch. Unlock more of Patch's incredible hidden abilities to free captured dragons and stop Eir from carrying out her evil plans. Throughout your adventure, you'll discover there's one thing even stronger than the ultimate chimeragon: the bond between a dragon and its rider.
A NEW ADVENTURE: Recover Scribbler's lost memories as you forge a friendship with Patch, his ultimate hybrid dragon

BATTLE: Unlock powerful abilities and take on fearsome foes

EXPLORE: Fly to new and familiar locations including Havenholme, Valka's Mountain and Blood Briar Island

SOLVE PUZZLES: Swap between Scribbler and his dragon Patch to conquer obstacles

De beste gaming producten vind je met korting bij PocketCubes
Specificaties:
NSW Dragons: Dawn of New Riders – Switch
| | |
| --- | --- |
| Merk | Bandai Namco |
| Splitscreen | Nee |
| Genre | Avontuur |
| Speleditie | Standard edition |
| Gesproken taal | nl |
| Format | Blu-ray |
| EAN | 5060528031691 |
| Doelgroep | Kindergames |
| Minimale leeftijd | 7 |
| Inhoud leeftijdsindicatie | Geweld |
| Online abonnement vereist | Geen abonnement vereist |
| Online optie | Nee |
| Online multiplayer | Nee |
| Platform | Nintendo Switch |
| Regio | PAL |
| Aantal spelers offline | 1 |
| Retour- en annuleerbeleid | Klik hiervoor op Retourneren onderaan deze pagina |
| Verpakking | Amaray |
| 4K-gaming ondersteuning | Nee |
| Gewicht | 90 g |
| Oorspronkelijke releasedatum | 2019-02-01 |
| Reparatie type | Carry-in |
| Speltype | Fantasie |
| Talen container | nl |
| Verpakking breedte | 7 cm |
| Verpakking hoogte | 5 mm |
| Verpakking lengte | 11 cm |
| Virtual Reality mogelijkheden | Niet geschikt voor VR |
2 recensies voor
NSW Dragons: Dawn of New Riders – Switch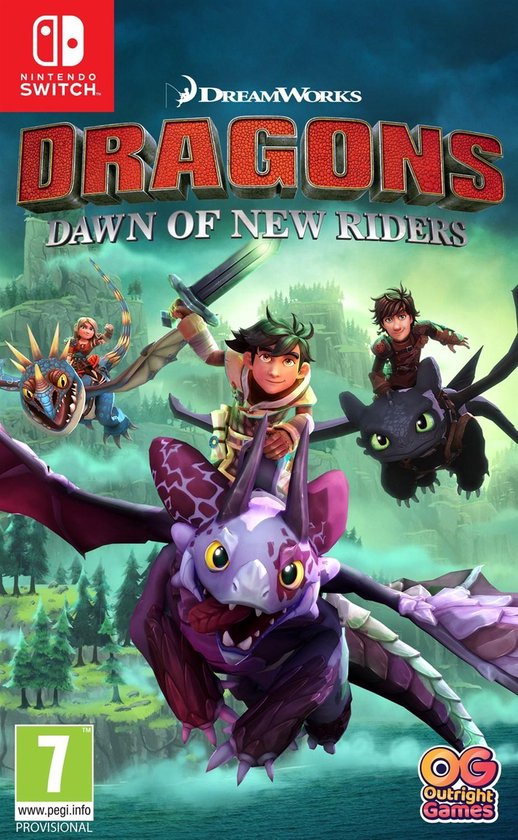 NSW Dragons: Dawn of New Riders – Switch