Pillars of Eternity 2: Deadfire – PS4

Pillars of Eternity 2 Deadfire

Dompel jezelf onder in een diepere single-player RPG-game-ervaring. Verrijkt met de nieuwste technologie en functies, bouwt Deadfire verder op de basis van klassieke D&D-gameplay met enorm verbeterde graphics, diepere spelmechanismen en een geheel nieuw avontuur waarin keuzes er echt toe doen.
Kenmerken

Ontdek de nieuwe regio van de Deadfire – plan je eigen koers per schip en verken de rijke en exotische eilanden van de archipelregio, ontdek nieuwe plaatsen, interageer met hun inwoners en aanvaard een verscheidenheid aan quests in elke haven.
Stel je eigen groep samen en pas je metgezellen aan – kies uit 7 verschillende metgezellen om je op je zoektocht te vergezellen en wijs meerdere klassen en diepere mogelijkheden toe aan elk van hen. Wees getuige van hun persoonlijke relaties en interacties met de toevoeging van het nieuwe 'companion' systeem.
Leid je schip over de zeeën – je schip is veel meer dan alleen een schip om te verkennen. Upgrade je schip en bemanning en kies welke vaardigheden je verbetert om onderweg gevaarlijke ontmoetingen te overleven.
De beste gaming producten vind je met korting bij PocketCubes
Specificaties:
Pillars of Eternity 2: Deadfire – PS4
| | |
| --- | --- |
| Merk | Koch Media |
| Minimale leeftijd | 12 |
| Genre | Actie, Avontuur, Role Playing Game (RPG) |
| Speleditie | Standard edition |
| Personage | Geen personage |
| Gesproken taal | en |
| Format | Blu-ray |
| EAN | 9120080072139 |
| Regio | PAL |
| Platform | PlayStation 4 |
| Inhoud leeftijdsindicatie | Geweld |
| Online abonnement vereist | Geen abonnement vereist |
| Online optie | Nee |
| Online multiplayer | Nee |
| Splitscreen | Nee |
| Aantal spelers offline | 1 |
| Doelgroep | Fanatieke gamer |
| Systeemeisen | Windows 10 & MAC |
| Reparatie type | Carry-in |
| Speltype | Fantasie |
| 4K-gaming ondersteuning | Nee |
| Fabrieksgarantie termijn | Geen fabrieksgarantie |
| Gewicht | 83 g |
| Gewonnen prijzen | geen |
| Ondertitels | Engels |
| Oorspronkelijke releasedatum | 2018-05-08 |
| Retour- en annuleerbeleid | Klik hiervoor op Retourneren onderaan deze pagina |
| Verpakking | Amaray |
| Talen container | en |
| Uitzonderingen fabrieksgarantie | Nee |
| Verpakking breedte | 135 mm |
| Verpakking hoogte | 15 mm |
| Verpakking lengte | 171 mm |
| Verpakkingsinhoud | Game disc |
| Virtual Reality mogelijkheden | Niet geschikt voor VR |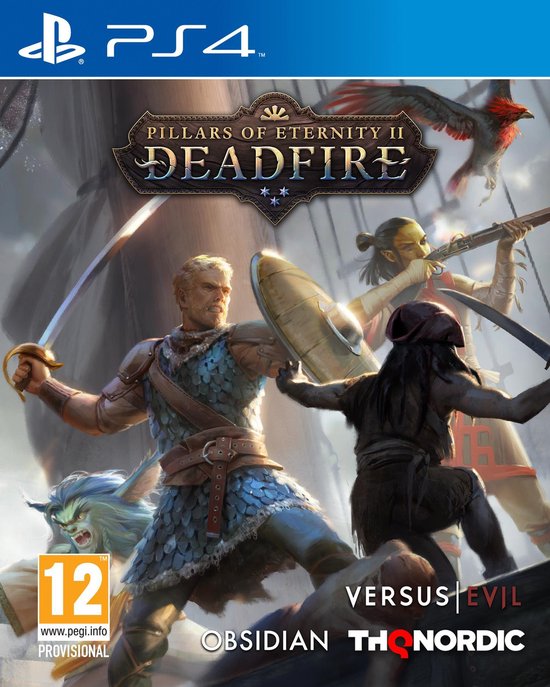 Pillars of Eternity 2: Deadfire – PS4