Pokemon Mystery Dungeon: Gates to infinity /3DS

Bereid je voor op een oneindig avontuur! Word een van vijf populaire Pokemon en betreed een wereld waar om elke hoek geweldige avonturen wachten, met Pokemon Mystery Dungeon: Gates to Infinity voor Nintendo 3DS en Nintendo 3DS XL.
Verken meer dan 20 spannende kerkers, tot de nok toe gevuld met allerlei soorten Pokemon, schatten en verrassingen! Niet alleen heeft elke kerker zijn eigen unieke kenmerken – de Pokemom die je er tegenkomt, het soort terrein en het aantal verdiepingen – maar de layout verandert elke keer dat je ze betreed, wat betekent dat je een oneindig aantal kerkers door kunt spelen!
Bovendien kun je voorwerpen en schatten die je in kerkers vindt gebruiken om verder te komen en kun je sommige in kerkers verslagen Pokemon rekruteren en met je mee laten vechten.

De beste gaming producten vind je met korting bij PocketCubes
Specificaties:
Pokemon Mystery Dungeon: Gates to infinity /3DS
| | |
| --- | --- |
| Merk | Nintendo |
| Online abonnement vereist | Geen abonnement vereist |
| Genre | Japanse Role Playing Game (JRPG) |
| Speleditie | Standard edition |
| Personage | Pokémon |
| Gesproken taal | en |
| Format | Blu-ray |
| EAN | 0045496523503 |
| Doelgroep | Kindergames, Fanatieke gamer |
| Minimale leeftijd | 3 |
| Platform | Nintendo 2DS, Nintendo 3DS |
| Systeemeisen | Nintendo 2DS, 3DS of 3DS XL handheld console |
| Regio | PAL |
| Retour- en annuleerbeleid | Klik hiervoor op Retourneren onderaan deze pagina |
| Verpakking | Amaray |
| Gewicht | 92.3 g |
| Gewonnen prijzen | Geen |
| Speltype | Turn Based |
| Talen container | en |
| Verpakking breedte | 13.5 cm |
| Verpakking hoogte | 1.78 cm |
| Verpakking lengte | 19 cm |
1 recensie voor
Pokemon Mystery Dungeon: Gates to infinity /3DS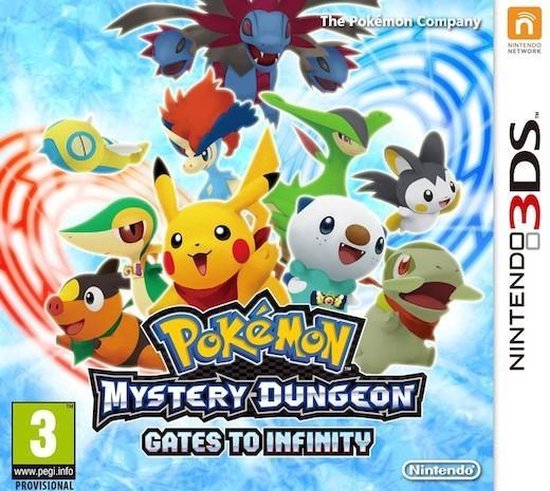 Pokemon Mystery Dungeon: Gates to infinity /3DS