Risen 3 – Titan Lords – Windows

Inclusief pre-order content:

Fog Island
Uprising of the little guys
Adventure Garb
Risen 3 – Titan Lords

De wereld is door de goden in de steek gelaten en getekend door de rooftocht van de Titanen. De mensheid vecht om opnieuw op de been te komen en haar krachten te bundelen. Maar jij hebt ondertussen andere problemen aan je hoofd. Je eigen leven ligt in duigen en je moet op pad om datgene terug te vinden wat verloren is gegaan in de duisternis die zich over de wereld verspreidt. En wie weet kan je onderweg misschien ook nog de wereld redden.

Drie paden leiden naar je lotsbestemming. Drie manieren om het tegen de Titanen op te nemen en je ziel terug te winnen. Welk pad ga je nemen? De keuze is aan jou.
Verkennen en overleven

Betreed een klassieke role-playing-wereld, met een ruige aantrekkingskracht, kleurrijke personages en demonische gevaren.
Keuzevrijheid

Kies naar waar je wil reizen en wanneer en onderga de consequenties van de beslissingen die je neemt.
De magie is terug!

De kristalmagie is terug, en daarmee allesvernietigende nieuwe gevechtsvaardigheden.

De beste gaming producten vind je met met de scherpste prijs bij PocketCubes
Specificaties:
Risen 3 – Titan Lords – Windows
| | |
| --- | --- |
| Merk | Koch Media |
| Splitscreen | Nee |
| Genre | Avontuur, Role Playing Game (RPG) |
| Speleditie | Standard edition |
| Gesproken taal | en |
| Format | CD-rom |
| EAN | 4020628885489 |
| Doelgroep | Fanatieke gamer |
| Minimale leeftijd | 16 |
| Online abonnement vereist | Geen abonnement vereist |
| Platform | Windows |
| Retour- en annuleerbeleid | Klik hiervoor op Retourneren onderaan deze pagina |
| Regio | Region Free |
| Verpakking | Amaray |
| Gewicht | 100 g |
| Gewonnen prijzen | Geen |
| Oorspronkelijke releasedatum | 2014-08-15 |
| Speltype | Middeleeuwen |
| Talen container | nl |
| Verpakking breedte | 135 mm |
| Verpakking hoogte | 14 mm |
| Verpakking lengte | 191 mm |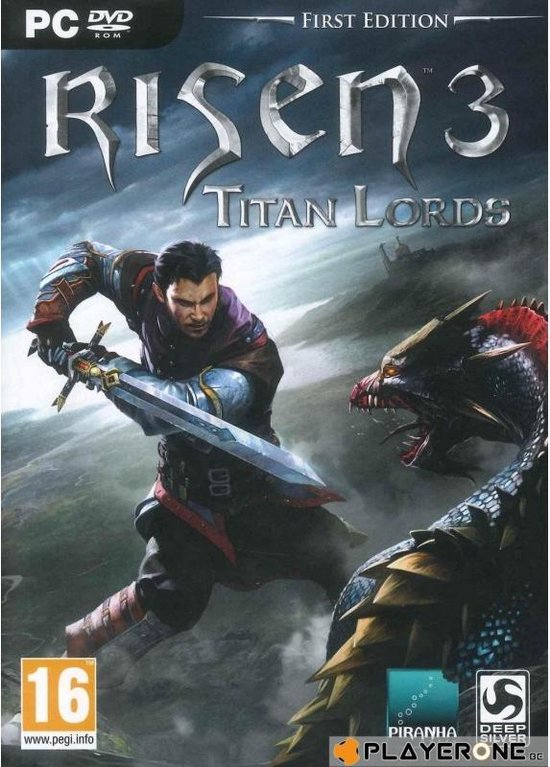 Risen 3 – Titan Lords – Windows