Runaway: Dream Of The Turtle

Brian Basco is terug in Runaway: Dream Of The Turtle! De held van Runaway is met Gina op vakantie naar een prachtig tropisch eiland. Alles lijkt mooi en heerlijk totdat Brian en Gina besluiten om een vliegtuigtocht te maken over het eiland. Het duurt niet lang of Brian raakt verzeild in een duister mysterie met als inzet, hoe kan het ook anders, het lot van de wereld.
Runaway: Dream Of The Turtle is een klassiek point & click adventure voor op de Nintendo Wii. Door met je Wii-afstandsbediening te bewegen en objecten in de spelwereld te onderzoeken, zal je al puzzelend het raadsel moeten ontrafelen.
Runaway: Dream Of The Turtle laat je niet alleen nadenken, bovendien biedt deze game een spannend verhaal dat je kunt ervaren alsof je een boek leest, een interactief boek natuurlijk. Bovendien bevat Runaway: Dream Of The Turtle de nodige humor, één van de kenmerkende eigenschappen van een point & click adventure. Help Brian Basco de wereld te redden!

De beste gaming producten vind je met korting bij PocketCubes
Specificaties:
Runaway: Dream Of The Turtle
| | |
| --- | --- |
| Merk | Nintendo |
| Regio | PAL |
| Speleditie | Standard edition |
| Personage | Geen personage |
| Gesproken taal | en |
| Format | Dvd-rom |
| EAN | 3512289015370 |
| Minimale leeftijd | 12 |
| Inhoud leeftijdsindicatie | Geen specifieke meldingen |
| Doelgroep | Fanatieke gamer |
| Online abonnement vereist | Geen abonnement vereist |
| Online optie | Ja |
| Online multiplayer | Nee |
| Splitscreen | Nee |
| Aantal spelers | 2 |
| Aantal spelers offline | 2 |
| Genre | Avontuur, Role Playing Game (RPG) |
| Platform | Nintendo Wii |
| Reparatie type | Carry-in |
| Speltype | Point and Click |
| 4K-gaming ondersteuning | Nee |
| Fabrieksgarantie termijn | 1 jaar |
| Gewicht | 92.3 g |
| Gewonnen prijzen | Geen |
| Ondertitels | Nederlands |
| Oorspronkelijke releasedatum | 2009-11-26 |
| Retour- en annuleerbeleid | Klik hiervoor op Retourneren onderaan deze pagina |
| Systeemeisen | Nintendo Wii of Wii mini console + controller(s) |
| Talen container | nl |
| Uitzonderingen fabrieksgarantie | geen |
| Verpakking breedte | 13.5 cm |
| Verpakking hoogte | 1.78 cm |
| Verpakking lengte | 19 cm |
| Verpakkingsinhoud | 1 spel |
| Verpakking | Amaray |
| Virtual Reality mogelijkheden | Niet geschikt voor VR |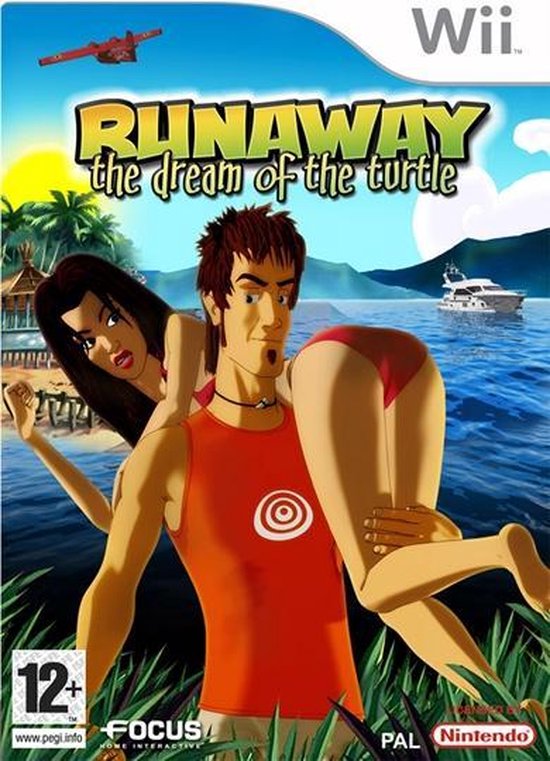 Runaway: Dream Of The Turtle