SEGA 3D Classics Collection

SEGA 3D Classics Collection bevat negen klassieke games die eerder verschenen voor SEGA Mega Drive, GigaDrive en Master System, inclusief Sonic The Hedgehog, Thunder Blade, Galaxy Force II en Altered Beast.
Al deze games hebben een 3D-bewerking gekregen, voor een geheel nieuwe grafische beleving op Nintendo 3DS.
Tussen de negen games zijn ook twee games die hun Europese 3DS-debuut beleven: Maze Walker en Power Drift. Daarnaast is toegevoegd Fantasy Zone II: The Tears of Opa-Opa, een uitbreiding van het geweldige Fantasy Zone II.
Kenmerken
• 9 klassieke spellen, geremastered in 3D!
• Power Drift en Puyo Puyo 2 zijn voor de eerste keer beschikbaar buiten Japan!
• Multiplayer – lokale 2 player modus in Puyo Puyo 2 en Altered Beast!
• Pack art design door Pokémon Art Director, Ken Sugimori!
De beste gaming producten vind je met met de scherpste prijs bij PocketCubes
Specificaties:
SEGA 3D Classics Collection
| | |
| --- | --- |
| Merk | Sega |
| Platform | Nintendo 3DS |
| Genre | Actie |
| Speleditie | Standard edition |
| Gesproken taal | en |
| Format | Blu-ray |
| EAN | 5055277027828 |
| Doelgroep | Vrijetijdsgamer |
| Minimale leeftijd | 7 |
| Inhoud leeftijdsindicatie | Geen specifieke meldingen |
| Online abonnement vereist | Geen abonnement vereist |
| Online optie | Nee |
| Online multiplayer | Ja |
| Splitscreen | Nee |
| Aantal spelers offline | 2 |
| Regio | PAL |
| Retour- en annuleerbeleid | Klik hiervoor op Retourneren onderaan deze pagina |
| Verpakking | Box |
| 4K-gaming ondersteuning | Nee |
| Oorspronkelijke releasedatum | 2016-11-04 |
| Speltype | Arcade |
| Talen container | en |
| Virtual Reality mogelijkheden | Niet geschikt voor VR |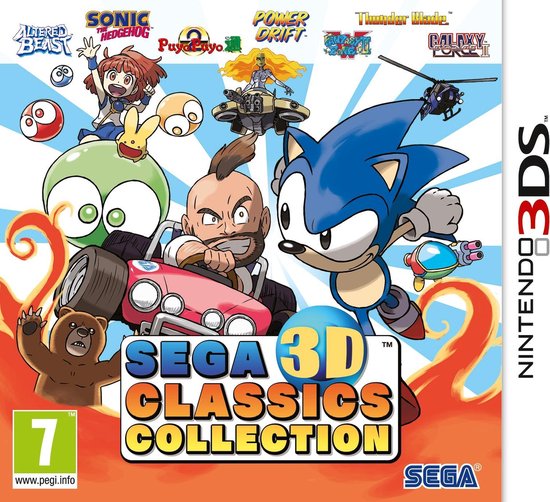 SEGA 3D Classics Collection