Skull and Bones Premium Edition – PS5

Dit is de speciale editie van Skull and Bones Special Edition voor de PlayStation 5 (PS5). Betreed het gevaarlijke paradijs van Skull and Bones™, geïnspireerd op de Indische Oceaan tijdens de Gouden Eeuw van Piraterij, waarin je het lot moet tarten om uit te groeien van buitenbeetje tot beruchte piraat.
Kenmerken
Bouw een reputatie op om toegang te krijgen tot meer hulpmiddelen en mogelijkheden terwijl je steeds riskantere contracten accepteert om zo veel mogelijk buit binnen te slepen.
Creëer tot wel 12 schepen en personaliseer ze met verschillende wapens en pantsers om je overwinningskansen te vergroten.
Wees op je hoede in deze woeste open wereld die geïnspireerd is op de Indische Oceaan. Er schuilt gevaar in elke hoek.
Bepaal zelf hoe je de zee wilt trotseren. Zeil alleen of vorm een team met twee vrienden in PvE of PvEvP.
Additionele Content
De Special Edition bevat de basisgame en de extra missie* 'Bloody Bones' Legacy'.
*Je moet Infamy Tier: Buccaneer bereikt hebben om de missies te ontgrendelen.
Pre-orderbonus*:
De pre-orderbonus bevat het Highness of the High Sea Pack, met daarin het Notoriety-gewaad en Coronation-vuurwerk.
*De uiteindelijke content en releasedata kunnen nog veranderen. De bonuscontent van de pre-order kan op elk moment beschikbaar worden gesteld voor verkoop en/of worden weggegeven, naar eigen inzicht van Ubisoft.
De beste gaming producten vind je met korting bij PocketCubes
Specificaties:
Skull and Bones Premium Edition – PS5
| | |
| --- | --- |
| Merk | Ubisoft |
| Regio games | PAL |
| Games genre | Actie, Avontuur, Open wereld, Role Playing Game (RPG), Vecht |
| Type indicator | Deluxe edition |
| Type drager | Blu-ray |
| Oorspronkelijke releasedatum | 08 november 2022 |
| Target type gamer | Fanatieke gamer, Vrijetijdsgamer |
| Minimumleeftijd rating | 18 |
| Game platform | PlayStation 5 |
| Speltype | Constructie/bouwen, Survival |
| Type opbergcase | Amaray |
| Talen container | en, fr |
| Talen product | en, fr |
| EAN | 3307216250623 |
| Categorieën | Videogames Games PS5-games |
| Aanraders | Te reserveren |
| Games platform | PlayStation 5 |
| PEGI-leeftijd | 18+ |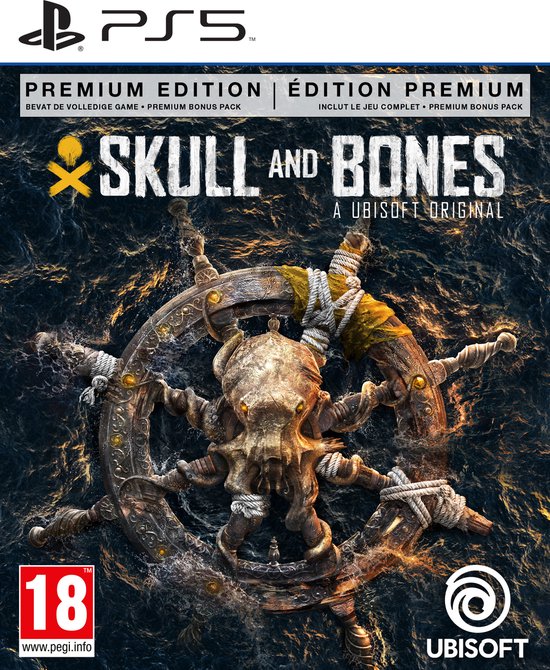 Skull and Bones Premium Edition – PS5