TCG Yu-Gi-Oh! 1x Legendary duelists Rage of Ra Boosterbox

Duik diep in de Decks of Duelists gehuld in duisternis met het volgende hoofdstuk in de Legendary Duelist-serie!
Yugi's laatste vijand in het Battle City-toernooi was niemand minder dan Marik Ishtar, leider van de Rare Hunters en meester van The Winged Dragon of Ra! Marik's geavanceerde tactieken met The Winged Dragon of Ra waren voorheen onmogelijk te repliceren, maar 7 nieuwe kaarten in deze set staan ​​klaar om het onmogelijke mogelijk te maken! Maar waarom zou u stoppen met het upgraden van uw Deck-strategie? Deze nieuwe Legendary Duelists-set bevat een extra speciale versie van The Winged Dragon of Ra zoals je nog nooit eerder hebt gezien!
Daarnaast vind je elk 7 nieuwe kaarten voor Aporia's Meklord-strategie van Yu-Gi-Oh! 5D's en 7 nieuwe kaarten van Esper Roba's Battle City psychische strategie met overal de vloek van Trap Cards: Jinzo! Als u de set afrondt, kunt u belangrijke kaarten krijgen die nodig zijn voor het bouwen van deze 3 decks, evenals andere beroemde kaarten die door deze Duelists in het tv-programma worden gebruikt.
Een booster bevat 5 kaarten.

De beste gaming producten vind je met korting bij PocketCubes
Specificaties:
TCG Yu-Gi-Oh! 1x Legendary duelists Rage of Ra Boosterbox
| | |
| --- | --- |
| EAN | 4012927842669 |
| Introductiemaand | September |
| Aanbevolen minimum leeftijd | 6 year |
| Accu/batterij model | Geen batterijen |
| App vereist voor volledige functionaliteit | Nee |
| App werkt op besturingssyteem | Niet van toepassing |
| Betaalde diensten vereist | Niet van toepassing |
| Bluetooth vereist | Niet van toepassing |
| Compatibel met | Niet van toepassing |
| Delen van gebruikersgegevens vereist | Niet van toepassing |
| Doelgroep | Kinderen en volwassenen |
| Geslacht | Jongens en meisjes |
| Introductiejaar | 2020 |
| Aanbevolen maximum leeftijd | 0 year |
| Kan zelfstandig met internet verbinden | Nee |
| Jaar van uitgave | 2020 |
| Maximaal aantal spelers | 2 |
| Minimale aantal spelers | 1 |
| Mobiele data verbinding mogelijk | Niet van toepassing |
| Ondersteuning met updates | Niet van toepassing |
| Speeltijd | 0 min |
| Speleditie | Luxe Uitgave |
| Spelsoort | Trading cards |
| Taal spel | Engels |
| Type Trading Cards Product | Booster Box |
| Type Trading Cards Serie | Yu-Gi-Oh |
| Voedingstype | Geen voedingstype |
| Wifi vereist | Niet van toepassing |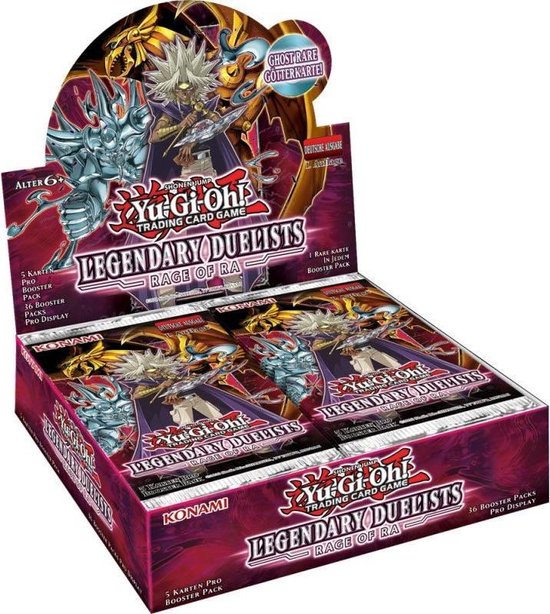 TCG Yu-Gi-Oh! 1x Legendary duelists Rage of Ra Boosterbox