The Escapists Double Pack – The Escapists 1 & 2 – PS4

Start met het plotten van je volgende uitbraak als The Escapists en The Escapists 2 voor PlayStation 4 samen in een double pack worden opgesloten! The Escapists is een prijswinnende gevangenisuitbraaksimulatie die spelers de gelegenheid geeft een luchthartige blik te werpen op het dagelijkse gevangenisleven. Hoewel het doel van het spel simpelweg ontsnappen is, zit het detail in de executie. (Zeg het woord executie niet te hard in een gevangenis.)
Kenmerken

Maak, steel, vecht en ontsnap! Keer terug naar het gevangenisleven en ontsnap uit de zwaarste gevangenissen ter wereld in The Escapists 2. Heb jij de vaardigheden om opnieuw te ontsnappen?
Bundel je krachten met maximaal 3 vrienden om de ultieme ontsnappingsploeg samen te stellen en de wildste ontsnappingen ooit uit te voeren!
Speel online of samen op de bank om je listige avonturen uit te broeden
Beleef het met 2 spelers op een lokaal split screen co-op of online met een maximaal van 4 criminelen!
De beste gaming producten vind je met met de scherpste prijs bij PocketCubes
Specificaties:
The Escapists Double Pack – The Escapists 1 & 2 – PS4
| | |
| --- | --- |
| Merk | Koch Media |
| Regio | Region Free |
| Speleditie | Special edition |
| Personage | Geen personage |
| Gesproken taal | en, fr |
| Format | Blu-ray |
| EAN | 5056208805690 |
| Minimale leeftijd | 7 |
| Inhoud leeftijdsindicatie | Geen specifieke meldingen |
| Doelgroep | Fanatieke gamer, Gezelschapsgamer, Vrijetijdsgamer |
| Online abonnement vereist | PlayStation Plus |
| Online optie | Ja |
| Online multiplayer | Ja |
| Splitscreen | Ja |
| Aantal spelers | 4 |
| Aantal spelers offline | 4 |
| Genre | Strategie, Puzzel, Actie |
| Platform | PlayStation 4 |
| Reparatie type | Carry-in |
| Speltype | Humor |
| 4K-gaming ondersteuning | Nee |
| Fabrieksgarantie termijn | Geen fabrieksgarantie |
| Gewicht | 125 g |
| Gewonnen prijzen | – |
| Ondertitels | Geen ondertiteling |
| Oorspronkelijke releasedatum | 2019-11-12 |
| Retour- en annuleerbeleid | Klik hiervoor op Retourneren onderaan deze pagina |
| Systeemeisen | – |
| Talen container | en |
| Uitzonderingen fabrieksgarantie | Nee |
| Verpakking breedte | 135 mm |
| Verpakking hoogte | 14 mm |
| Verpakking lengte | 170 mm |
| Verpakkingsinhoud | – |
| Verpakking | Amaray |
| Virtual Reality mogelijkheden | Niet geschikt voor VR |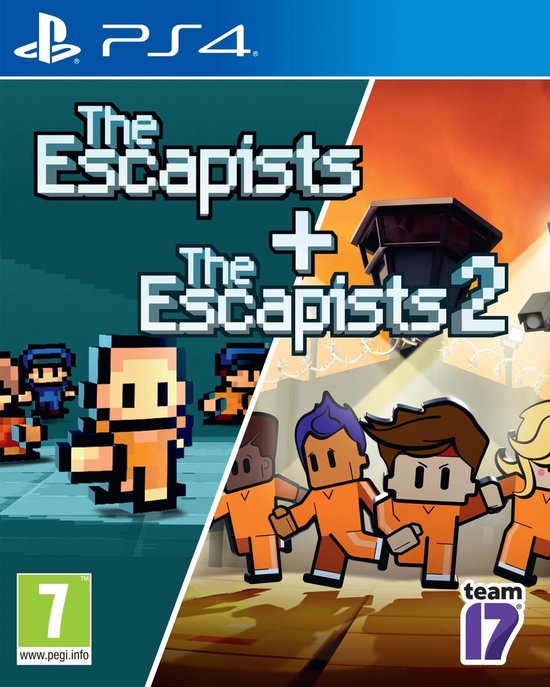 The Escapists Double Pack – The Escapists 1 & 2 – PS4