The Knight Witch – Deluxe Edition – Nintendo Switch

The Knight Witch is een Metroidvania met snelle vuurgevechten in een prachtige, met de hand getekende wereld. Hanteer verwoestende kaartspreuken, smeed hechte bondgenootschappen en maak morele keuzes om je thuis te redden en te ontdekken wie de spil is achter de invasie van krijgsgolems.
Schieten en magische spreuken!
Van bloedsnelle shoot-'em-up-gameplay tot verwoestende spreuken. Gebruik je magie om de sterkste en angstaanjagendste vijanden op de knieën te krijgen en verbeter je krachten met bijvoorbeeld Machine Gun of Triple Shot.
Dynamische heksenaanpassingen
Pas de kaarten in je hand aan en maak je eigen speelstijl met ruim 30 unieke spreukenkaarten waaruit je kunt kiezen. Creëer een offensieve, maar kwetsbare heks die het vooral moet hebben van afstandsaanvallen of maak het persoonlijk met zware bijlen en krachtige schokgolven.
Wek vertrouwen op en maak vrienden voor het leven
Je heldendaden in Dungeonidas worden rijkelijk beloond. Knight Witches halen kracht uit dankbaarheid en vertrouwen, dus zorg dat je geliefd bent. De keuzes die je maakt, hebben blijvend invloed op de mensen om je heen. Denk dus goed na!
Kwaliteitsverbeteringen
The Knight Witch is ontworpen als een Metroidvania zonder beperkingen, met een intuïtief, automatisch richtsysteem dat je aan en uit kunt zetten, 'cheats' die de wereld veranderen en een navigatiesysteem dat voorkomt dat je verdwaalt. Je kunt de game aanpassen aan jouw niveau.
De beste gaming producten vind je met korting bij PocketCubes
Specificaties:
The Knight Witch – Deluxe Edition – Nintendo Switch
| | |
| --- | --- |
| Merk | Plaion |
| Fabrieksgarantie termijn | 3 maanden |
| Type indicator | Deluxe edition |
| Type drager | Nintendo Switch card |
| Oorspronkelijke releasedatum | 23 mei 2023 |
| EAN | 5056208818010 |
| Target type gamer | Fanatieke gamer, Vrijetijdsgamer |
| Reden leeftijd rating | Geweld |
| Online option games | Nee |
| Minimumleeftijd rating | 12 |
| Online co-op | Nee |
| Split screen | Nee |
| Aantal spelers offline | 1 |
| Regio games | Region Free |
| Systeemeisen | Nintendo Switch |
| Type opbergcase | Amaray |
| Games genre | Actie |
| Game platform | Nintendo Switch |
| Verpakking breedte | 105 mm |
| Verpakking hoogte | 11 mm |
| Personage van toepassing | Nee |
| Reparatie type | Carry-in |
| Speltype | Fantasie |
| Talen container | en, fr |
| Talen product | en |
| Uitzonderingen fabrieksgarantie | Geen |
| Gewonnen prijzen | – |
| Gewicht | 55 g |
| Verpakking lengte | 170 mm |
| Verpakkingsinhoud | The Knight Witch – Deluxe Edition – Nintendo Switch |
| Virtual Reality mogelijkheden | Niet geschikt voor VR |
| Categorieën | Videogames Games Nintendo Switch-games |
| Games platform | Nintendo Switch |
| PEGI-leeftijd | 12+ |
| Ondertitels | Duits, Engels, Frans |
| Aanraders | Te reserveren |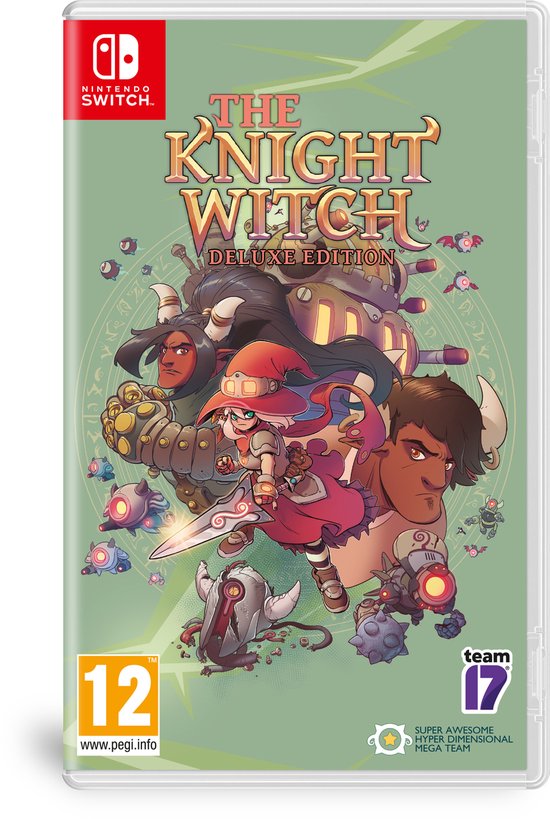 The Knight Witch – Deluxe Edition – Nintendo Switch