The Lord of the Rings: Gollum – Xbox Series X & Xbox One

Dit is The Lord of the Rings: Gollum voor de Xbox Series X en Xbox One. Wees in The Lord of the Rings: Gollum behendig, wendbaar, sluw en listig. Het bekende personage Gollem is gedreven door zijn verlangen om weer in handen te krijgen wat hij is verloren. Gollum is een van de meest fascinerende personages in de wereld van The Lord of the Rings.
Eén geest, twee ego's
Gollum heeft onvoorstelbare dingen gezien en dingen overleefd die anderen niet zouden durven uit te spreken. Verscheurd door zijn gespleten persoonlijkheid kan hij wreed en slecht zijn als Gollem of sociaal en voorzichtig als Sméagol.
De keuzes die je maakt en de manier waarop je speelt, hebben rechtstreeks invloed op Gollems persoonlijkheid: De twee persoonlijkheden belichaamd door Gollem en Sméagol zijn altijd met elkaar in strijd. Het is aan jou om te beslissen of de duistere kant van Gollem het overneemt of dat er nog een sprankje rede overblijft in wat ooit Sméagol was. Eén geest, twee ego's – jij beslist!
Het verhaal
Hoewel het essentieel is voor het verhaal van J.R.R. Tolkien, zijn veel delen van Gollems zoektocht nog niet in detail verteld. In The Lord of the Rings: Gollum beleef je dit verhaal. Van zijn tijd als slaaf onder de Zwarte Toren tot zijn verblijf bij de Elfen van Demsterwold.
Productkenmerken van Lord of the Rings: Gollum
Gebruik skills als sluipvaardigheden, behendigheid en listigheid
Klim, spring en vecht je een weg langs gevaren of naar gunstige plekken.
Beslis welke kant van Gollum de overwint krijgt om verder te komen.
Bedenk op een creatievere en schurkachtigere manier om van je vijanden af te komen.
De beste gaming producten vind je met korting bij PocketCubes
Specificaties:
The Lord of the Rings: Gollum – Xbox Series X & Xbox One
| | |
| --- | --- |
| Merk | Nacon |
| Verpakking | Amaray |
| Genre | Actie, Avontuur, Strategie, Vecht |
| Speleditie | Standard edition |
| Personage | Lord of the Rings |
| Format | Blu-ray |
| EAN | 3665962016024 |
| Doelgroep | Fanatieke gamer, Vrijetijdsgamer |
| Minimale leeftijd | 16 |
| Inhoud leeftijdsindicatie | Angst, Geweld |
| Online abonnement vereist | Geen abonnement vereist |
| Aantal spelers offline | 1 |
| Regio | Region Free |
| Retour- en annuleerbeleid | Klik hiervoor op Retourneren onderaan deze pagina |
| Platform | Xbox Series X, Xbox One |
| Fabrieksgarantie termijn | 2 jaar |
| 4K-gaming ondersteuning | Ja |
| Ondertitels | Engels |
| Personage van toepassing | Ja |
| Reparatie type | Carry-in |
| Speltype | Fantasie |
| Talen container | nl |
| Talen product | nl |
| Uitzonderingen fabrieksgarantie | – |
| Verpakkingsinhoud | The Lord of the Rings: Gollum – Xbox Series X |
| Virtual Reality mogelijkheden | Niet geschikt voor VR |
| Categorieën | Videogames Games Xbox One-games Xbox Series X-games |
| Games genre | Actie, Avontuur, Strategie, Vecht |
| Games platform | Xbox One, Xbox Series X |
| Aanraders | Te reserveren |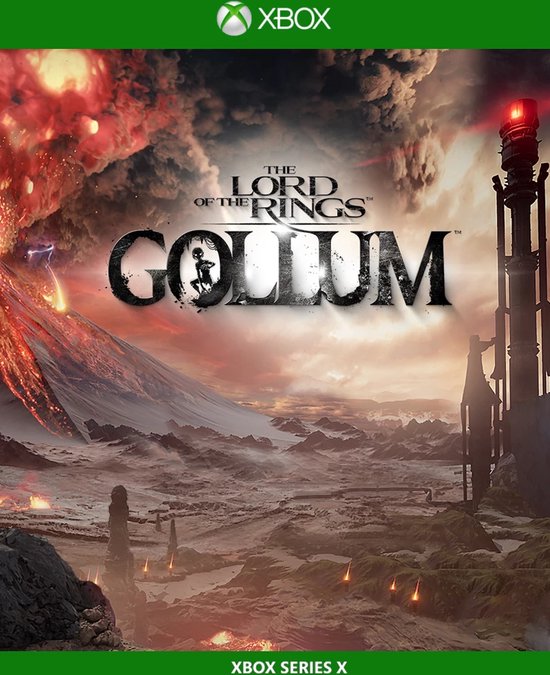 The Lord of the Rings: Gollum – Xbox Series X & Xbox One