The Patricians And Merchants Box – Windows

The Patricians And Merchants Box is een compilatie van drie klassieke games van uitgever Kalypso in één doosje. De aanwezige games zijn Patrician III, de ruimte actiegame Dark Star One, en tenslotte Vermeer 2.
In Patricians III staat de handel centraal. Naast de reguliere handel hebben ook onderwerpen als piraterij, politiek en economie hun weg gevonden in deze – van oorsprong – Duitse gameserie.
Kijken we echter naar Dark Star One, dan zien we daar een geheel ander type game. Deze game is veel meer gebaseerd op actie. Je voert opdrachten uit in je ruimteschip voor grote bazen en moet je proberen omhoog te werken in de hierarchie. Ondertussen zijn er keuze die je moet maken, want met welke facties en personen wil je samenwerken? Wat is jouw persoonlijke doel in Dark Star One?
Tenslotte is er de derde en laatste game, Vermeer 2. Je zou denken dat deze game over de Nederlandse schilder Johannes Vermeer gaat, en ongetwijfeld om die reden is het spel later hernoemd tot The Great Art Race. In deze game ga je opzoek naar de gestolen schilderijen van je opa. Zodra je ze vindt, moet je ze terugkopen, maar dan heb je wel geld nodig. Geld moet je verdienen, en omdat tegenstanders ook steeds geld bieden, moet je handig tewerk gaan.

De beste gaming producten vind je met korting bij PocketCubes
Specificaties:
The Patricians And Merchants Box – Windows
| | |
| --- | --- |
| Merk | Kalypso Media |
| Splitscreen | Nee |
| Genre | Avontuur, Role Playing Game (RPG) |
| Speleditie | Standard edition |
| Gesproken taal | en |
| Format | Dvd-rom |
| EAN | 4260089412903 |
| Doelgroep | Fanatieke gamer |
| Minimale leeftijd | 12 |
| Online abonnement vereist | Geen abonnement vereist |
| Platform | PC |
| Systeemeisen | Windows besturingssysteem |
| Regio | Region Free |
| Retour- en annuleerbeleid | Klik hiervoor op Retourneren onderaan deze pagina |
| Verpakking | Amaray |
| Gewicht | 92.3 g |
| Gewonnen prijzen | Geen |
| Oorspronkelijke releasedatum | 2009-10-30 |
| Talen container | en |
| Verpakking breedte | 13.5 cm |
| Verpakking hoogte | 1.78 cm |
| Verpakking lengte | 19 cm |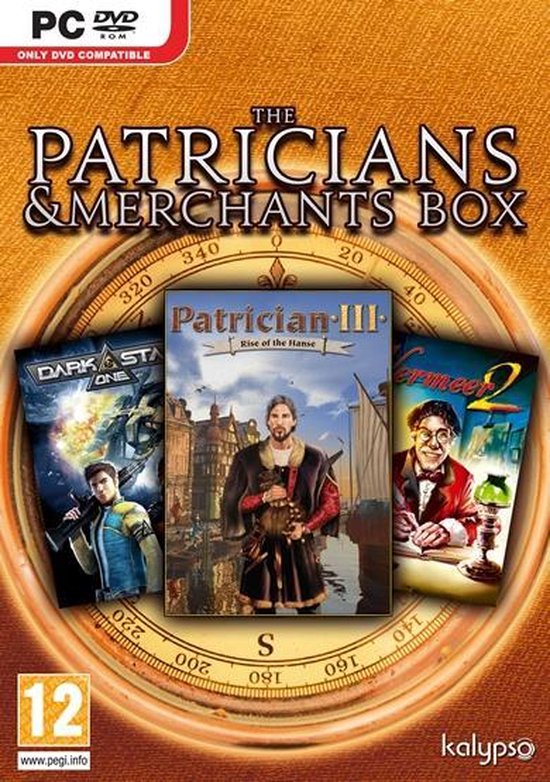 The Patricians And Merchants Box – Windows