Wasteland 3 Colorado Collection – Win10 – Game

De complete Wasteland 3-ervaring in één kolossale collectie. Naast de bekroonde tactische RPG Wasteland 3 bevat de Colorado Collection zowel de uitbreidingen The Battle of Steeltown en Cult of the Holy Detonation, als de Colorado Survival Gear-bonusitems.
De colorado collection bevat:

o Het bekroonde vervolg in de Wasteland-franchise brengt de Desert Rangers naar de bevroren woestenij van Colorado om af te rekenen met bendes, sektes en psychopathische clowns in een poging stabiliteit te brengen in nog een grensgebied van de woestenij.
o Het productiecomplex van Steeltown is tot stilstand gekomen, waardoor de leveringen stoppen van machines en robots die nodig zijn voor Colorado's oorlogsinspanningen. Het is aan de Rangers om de raderen weer te laten draaien, met alle mogelijke middelen.
Cult of the Holy Detonation
o Waag je in het Cheyenne Mountain-complex en neem bezit van een krachtbron die van Colorado Springs een geëlektrificeerde utopie kan maken, of een rokende krater. Het is aan de Rangers hoe ze met deze radioactieve situatie omgaan.
o Begin je avonturen met een set bonusuitrusting met sneeuwthema die je aankomst in Colorado wat vlotter zal laten verlopen.
De beste gaming producten vind je met korting bij PocketCubes
Specificaties:
Wasteland 3 Colorado Collection – Win10 – Game
| | |
| --- | --- |
| Merk | Prime Matter |
| Regio | Region Free |
| Genre | Actie, Strategie, Role Playing Game (RPG) |
| Speleditie | Special edition |
| Format | Digitaal download |
| EAN | 0889842365610 |
| Doelgroep | Vrijetijdsgamer, Fanatieke gamer |
| Minimale leeftijd | 18 |
| Online abonnement vereist | Geen abonnement vereist |
| Online optie | Ja |
| Online multiplayer | Ja |
| Splitscreen | Nee |
| Aantal spelers offline | 1 |
| Platform | Windows download |
| Retour- en annuleerbeleid | Dit product kan niet geretourneerd of geannuleerd worden |
| Systeemeisen | Windows 10 |
| 4K-gaming ondersteuning | Nee |
| Fabrieksgarantie termijn | 2 jaar |
| Gewonnen prijzen | n.v.t |
| Ondertitels | Engels |
| Oorspronkelijke releasedatum | 2022-01-10 |
| Personage van toepassing | Nee |
| Reparatie type | Carry-in |
| Speltype | Science Fiction |
| Talen container | en |
| Talen product | en |
| Type opbergcase | Download |
| Virtual Reality mogelijkheden | Niet geschikt voor VR |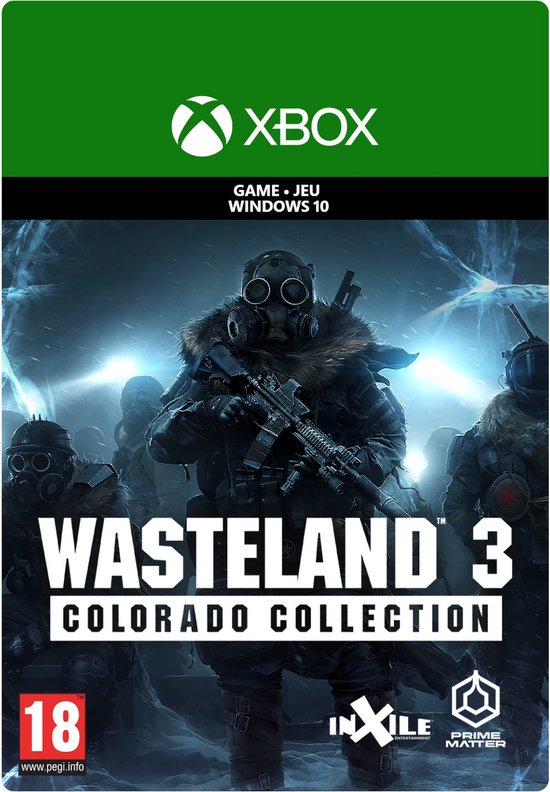 Wasteland 3 Colorado Collection – Win10 – Game