Xbox One or PS4 [PlayStation 4]

Playstation 4 or Xbox One — Which of the exciting new video game consoles should YOU buy?
For the first time ever, entertainment giants Sony and Microsoft are squaring off in a straight-up battle for video game supremacy, as both companies roll out their long awaited systems simultaneously. Hang on to your to your controllers… this is gonna be awesome!
The United Gamers Federation has compiled everything you need to know to make an informed buying decision for the release of the new Xbox One and PS4 systems. This guide is designed to get you the information that you need in a direct and concise manner. Every aspect of your buying decision is hyperlinked from the table of contents. You can skip directly to the chapters that cover the topics that you need to read about before buying or pre-ordering the console of your choice.
Included in this guide are head-to-head comparisons between the PS4 and Xbox One:
PS4 Price vs Xbox One PriceXbox One Specs vs PS4 SpecsXbox One Features vs PS4 FeaturesXbox One Games vs PS4 GamesPS4 Controllers vs Xbox One ControllersPS4 Release Date and Xbox One Release DateXbox One Photos and PS4 PhotosReviews from Gaming Experts Who Have Hands-On Experience with both Consoles
Remember, it has been 7 years since the last console upgrade. This buying decision is very important. Don't be the gamer that has the wrong console for seven more years, while the rest of your friends battle on the epic new console!
Click on the 'Order' button at the top right corner of this page, so that you can rock out 2014 with the most mind-blowing games ever created!

De beste gaming producten vind je met korting bij PocketCubes
Specificaties:
Xbox One or PS4 [PlayStation 4]
| | |
| --- | --- |
| Taal | Engels |
| Bindwijze | Paperback |
| Verschijningsdatum | september 2013 |
| Aantal pagina's | 50 pagina's |
| Illustraties | Nee |
| Auteur(s) | Eric Michael |
| Uitgever | Createspace Independent Publishing Platform |
| EAN | 9781492795308 |
| Extra groot lettertype | Nee |
| Gewicht | 82 g |
| Studieboek | Nee |
| Verpakking breedte | 152 mm |
| Verpakking hoogte | 229 mm |
| Verpakking lengte | 229 mm |
1 recensie voor
Xbox One or PS4 [PlayStation 4]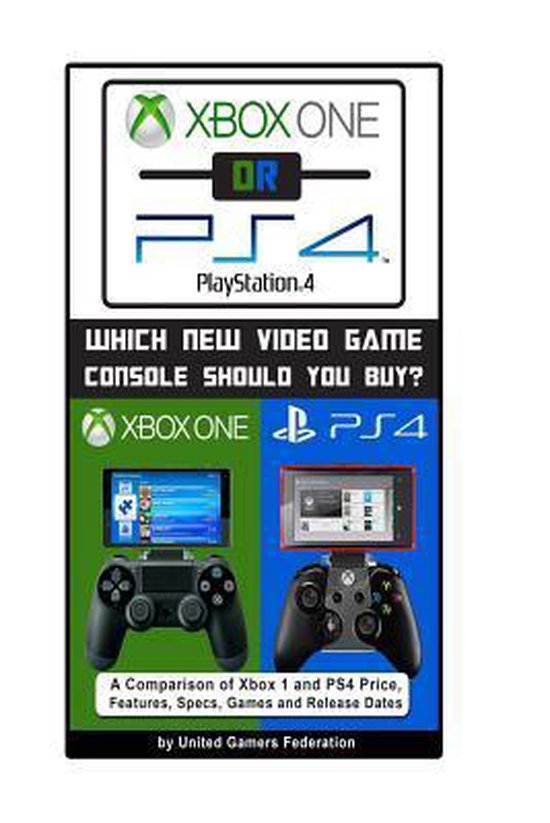 Xbox One or PS4 [PlayStation 4]