Yu-Gi-Oh! TCG – Speed Dueling Starter Deck Ultimate Predators Display (Decks x8) (Engelstalig)
Yu-Gi-Oh! TCG – Speed Dueling Starter Deck Ultimate Predators Display (Decks x8) (Engelstalig)

Yu-Gi-Oh! TCG – Speed Dueling Starter Deck Ultimate Predators Display (Decks x8)
Rex Raptor and Weevil Underwood, 2 of the most notorious rivals from Yu-Gi-Oh!, have arrived to Speed Duel!
Speed Duel Starter Decks: Ultimate Predators contain 2 ready-to-duel Speed Duel Decks including 2 Ultra Rare variant cards specially chosen to boost each strategy. Each character in Speed Duel Starter Decks: Ultimate Predators comes with 30 cards and 2 brand-new Skills each. Players will be able to adjust their Decks depending on which Skill they want to use with their character, letting you customize your strategy right out of the box!
Speed Duel Starter Decks: Ultimate Predators features 2 Skills for Rex and 2 Skills for Weevil, along with an example Deck list to pair up with each Skill. Rex is ready to unleash a prehistoric rampage! His Dinosaur Kingdom gives you access to a powerful Field Spell to stomp the competition into dust, while Nightmare Sonic Blast! unlocks the true potential of his Serpent Night Dragon to wipe out your opponent's defenses. Weevil and his Insects are as tricky as ever! Hidden Parasite will send your opponent reeling if they are unprepared, while Hyper Metamorphosis will accelerate the Summon of his Perfectly Ultimate Great Moth!
All cards in the Speed Duel Starter Decks contain a new marker confirming their legality for Speed Dueling. Only cards with this special symbol may be used for Speed Dueling*, however players are free to Duel with Speed Dueling cards in regular Yu-Gi-Oh! TRADING CARD GAME tournaments and events.**
*To use a card in Speed Dueling it must have the Speed Dueling Symbol on the card, other versions of the same card are not legal.
**Skill cards may only be used in Speed Dueling events.
Each Speed Duel Starter Deck: Ultimate Predators contains:
1 30-Card Rex Raptor Deck (29 Commons and 1 Ultra Rare)
1 30-Card Weevil Underwood Deck (29 Commons and 1 Ultra Rare)
4 Skill Cards (2 for Rex, 2 for Weevil)
De beste gaming producten vind je met korting bij PocketCubes
Specificaties:
Yu-Gi-Oh! TCG – Speed Dueling Starter Deck Ultimate Predators Display (Decks x8) (Engelstalig)
| | |
| --- | --- |
| EAN | 4012927741009 |
| Kan zelfstandig met internet verbinden | Nee |
| Aanbevolen minimum leeftijd | 40 year |
| Aantal meegeleverde accu's/batterijen | Geen |
| Accu/batterij code | Geen batterij |
| Accu/batterij model | Geen batterijen |
| Accu/batterij technologie | Geen batterijen |
| App vereist voor volledige functionaliteit | Nee |
| Doelgroep | Volwassenen |
| Geslacht | Jongens en meisjes |
| Gewicht | 916 g |
| Gewonnen prijzen | geen |
| Aanbevolen maximum leeftijd | 8 year |
| Materiaal | Karton |
| Leerthema | Bordspel |
| Maximaal aantal spelers | 2 |
| Minimale aantal spelers | 1 |
| Speleditie | Standaard editie |
| Spelsoort | Trading cards |
| Taal spel | Frans |
| Type Trading Cards Product | Deck |
| Type Trading Cards Serie | Yu-Gi-Oh |
| Verpakking breedte | 151 mm |
| Verpakking lengte | 191 mm |
| Verpakkingsinhoud | games_toys |
| Voedingstype | USB |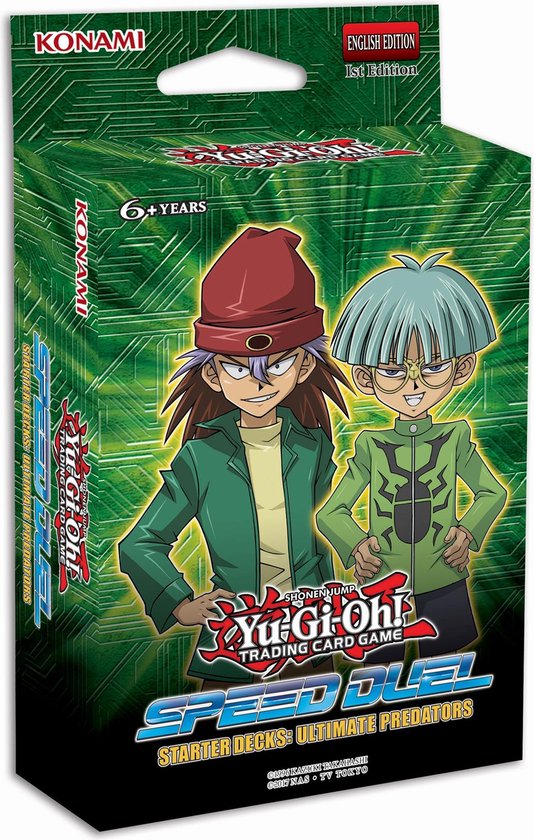 Yu-Gi-Oh! TCG – Speed Dueling Starter Deck Ultimate Predators Display (Decks x8) (Engelstalig)