Agents of Mayhem Day One Edition /PC

Met een massale, wereldwijde aanval heeft LEGION alle naties op aarde bezet. De enige die ze nog kan stoppen is MAYHEM. Op bevel van de even mysterieuze als directe Persephone Brimstone, verzamelen de elitaire Super Agents van MAYHEM zich in de stad Seoul, Zuid-Korea. Onder leiding van LEGION Minister Doctor Babylon en zijn duivelse luitenants, worden snode plannen in werking gezet om een wereldveranderend apparaat te bouwen dat de superschurkenorganisatie ongekende macht zal geven.
Om LEGION te stoppen en de wereld te bevrijden, moeten de Agents of Mayhem zich verplaatsen over grond en daken van een uitgestrekt stedelijk slagveld en samenwerken als een waar superheldenteam om LEGION koste wat kost te stoppen.
Succes is verre van gegarandeerd en de stad zal zeker wat schade oplopen, maar daar liggen de agenten niet wakker van…

De beste gaming producten vind je met korting bij PocketCubes
Specificaties:
Agents of Mayhem Day One Edition /PC
| | |
| --- | --- |
| Merk | Deep Silver |
| Platform | Windows |
| Genre | Actie, Avontuur, Shooter |
| Speleditie | Standard edition |
| Gesproken taal | en |
| Format | CD-rom |
| EAN | 4020628825638 |
| Doelgroep | Fanatieke gamer, Vrijetijdsgamer |
| Minimale leeftijd | 18 |
| Inhoud leeftijdsindicatie | Geen specifieke meldingen |
| Online abonnement vereist | Game specifiek abonnement |
| Online optie | Ja |
| Online multiplayer | Ja |
| Splitscreen | Nee |
| Aantal spelers | 16 |
| Aantal spelers offline | 1 |
| Regio | PAL |
| Retour- en annuleerbeleid | Klik hiervoor op Retourneren onderaan deze pagina |
| Verpakking | Amaray |
| 4K-gaming ondersteuning | Nee |
| Speltype | Behendigheid |
| Talen container | nl |
| Virtual Reality mogelijkheden | Niet geschikt voor VR |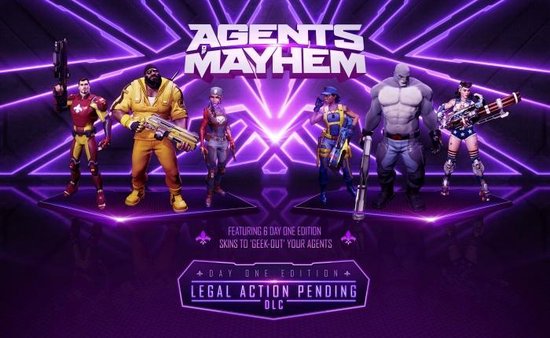 Agents of Mayhem Day One Edition /PC