Ary and the Secret of Seasons – Xbox One & Xbox Series X

Gebruik in Ary and the Secret of Seasons de kracht van de seizoenen om de omgeving aan te passen, puzzels op te lossen en het mysterieuze kwaad te verdrijven uit de prachtige wereld van Valdi.
In de met verschillende awards bekroonde action-adventuregame Ary and the Secret of Seasons speel je de rol van het dappere meisje Ary.
Zij wordt gerekruteerd om de Beschermer der Seizoenen te helpen, een oude organisatie die zeer rigide is in haar tradities. Terwijl ze door onbekende locaties in Valdi trekt, ontdekt Ary geheimen en de verborgen betekenissen achter de organisatie.
Zij heeft als nieuwe Beschermer der Seizoenen de kracht om de verschillende seizoenen te manipuleren. Spring tussen verschillende seizoenen om de wereld en seizoenen naar jouw hand te zetten.
Kenmerken:
Verkennen wordt beloond: Maak gebruik van de kracht van de seizoenen en doorkruis prachtige landschappen op zoek naar nieuwe bestemmingen, en los verbazingwekkende puzzels op
Dynamische omgevingen: Manipuleer de wereld rond Ary met haar omgevingskracht
Vloeiende gevechten: Ary's vaardigheden worden op de proef gesteld terwijl ze vijanden tegenkomt die haar vooruitgang willen dwarsbomen – van lokale bewoners tot kolossale vijanden
Ontdek het prachtige Valdi: Een prachtige visuele stijl gecombineerd met een betoverende soundtrack zorgt voor een meeslepende sfeer die zeker zorgt voor een gedenkwaardige gameplay-ervaring
De beste gaming producten vind je met met de scherpste prijs bij PocketCubes
Specificaties:
Ary and the Secret of Seasons – Xbox One & Xbox Series X
| | |
| --- | --- |
| Merk | Maximum Games |
| Minimale leeftijd | 12 |
| Genre | Actie, Avontuur, Role Playing Game (RPG) |
| Speleditie | Standard edition |
| Personage | Geen personage |
| Gesproken taal | de |
| Format | Blu-ray |
| EAN | 5016488135795 |
| Regio | Region Free |
| Platform | Xbox One, Xbox Series X |
| Inhoud leeftijdsindicatie | Geweld |
| Online abonnement vereist | Geen abonnement vereist |
| Online optie | Nee |
| Online multiplayer | Nee |
| Splitscreen | Nee |
| Aantal spelers | 1 |
| Doelgroep | Fanatieke gamer |
| Systeemeisen | Windows 10 & MAC |
| Reparatie type | Carry-in |
| Speltype | Arcade |
| 4K-gaming ondersteuning | Nee |
| Fabrieksgarantie termijn | 2 jaar |
| Gewicht | 81 g |
| Gewonnen prijzen | Winnaar "Best Unity Game" Gamescom 2017, Nominee "Rising Star" Gamescom 2017, Finalist "Indie Prize" Casual Connect 2017, Nominee "Best Quality of Art" Game connection 2017, Nominee "Best Indie Game" Game connection 2017 |
| Ondertitels | Engels |
| Oorspronkelijke releasedatum | 2020-09-01 |
| Retour- en annuleerbeleid | Klik hiervoor op Retourneren onderaan deze pagina |
| Verpakking | Amaray |
| Talen container | de |
| Uitzonderingen fabrieksgarantie | Nee |
| Verpakking breedte | 132 mm |
| Verpakking hoogte | 15 mm |
| Verpakking lengte | 173 mm |
| Verpakkingsinhoud | gaming_software |
| Virtual Reality mogelijkheden | Niet geschikt voor VR |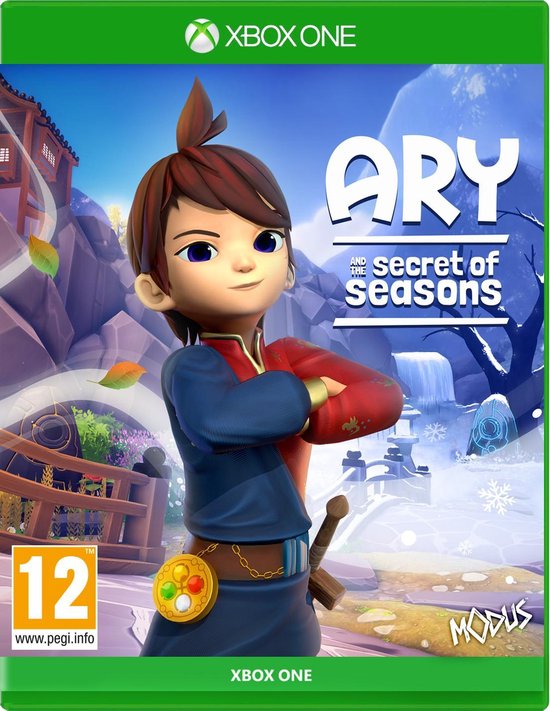 Ary and the Secret of Seasons – Xbox One & Xbox Series X