Atari Flashback Classics Vol1 – Xbox One

Relive the golden age of video games on the latest generation consoles. Each volume of Atari® Flashback Classics brings 50 iconic Atari games, complete with multiplayer, global leaderboards, and much more. From arcade legends to 2600 classics, this massive library includes some of the most popular Atari titles ever released, including Asteroids®, Centipede®, Missile Command®, and many more. Intuitive interface design delivers the responsive feel of the originals on modern controllers. All new achievements, leaderboards and social features, combined with an amazing archive of classic artwork make Atari Flashback Classics the ultimate Atari collection!
100 Classic Atari 2600 and Arcade Games: Each volume contains 50 seminal Atari titles including Asteroids®, Centipede®, Missile Command®, Tempest®, Warlords®, and many more (full list on following page).

Online and Local Multiplayer: Battle your friends for supremacy online or at home.

Online Leaderboards: Compare your high scores with players from around the world.

Brand New User-Interface: A highly customizable user-interface brings the classic arcade experience to home console controllers.

Original Cabinet and Box Art: Relive the glory days with a massive library of periodaccurate cabinet, promotional, and box art.
1. 3-D Tic-Tac-Toe (2600)

2. Air-Sea Battle (2600)

3. Backgammon (2600)

4. Basketball (2600)

5. Black Widow (Arcade)

6. Blackjack (2600)

7. Bowling (2600)

8. Canyon Bomber (2600)

9. Centipede (2600)

10. Centipede (Arcade)

11. Circus Atari (2600)

12. Combat (2600)

13. Combat 2 (2600)

14. Desert Falcon (2600)

15. Dodge Em (2600)

16. Fatal Run (2600)

17. Football (2600)

18. Home Run (2600)

19. Human Cannonball (2600)

20. Liberator (Arcade)

21. Lunar Lander (Arcade)

22. Millipede (2600)

23. Millipede (Arcade)

24. Miniature Golf (2600)

25. Pong (Arcade)

26. Quadrun (2600)

27. Radar Lock (2600)

28. Realsports Boxing (2600)

29. Realsports Football (2600)

30. Realsports Soccer (2600)

31. Realsports Volleyball (2600)

32. Save Mary (2600)

33. Slot Machine (2600)

34. Slot Racers (2600)

35. Space Duel (Arcade)

36. Sprint Master (2600)

37. Star Raiders (2600)

38. Steeplechase (2600)

39. Stunt Cycle (2600)

40. Super Baseball (2600)

41. Super Football (2600)

42. Swordquest: Earthworld (2600)

43. Swordquest: Fireworld (2600)

44. Swordquest: Waterworld (2600)

45. Tempest (2600)

46. Tempest (Arcade)

47. Video Olympics (2600)

48. Warlords (2600)

49. Warlords (Arcade)

50. Yars' Revenge (2600)

De beste gaming producten vind je met met de scherpste prijs bij PocketCubes
Specificaties:
Atari Flashback Classics Vol1 – Xbox One
| | |
| --- | --- |
| Merk | Pqube |
| Regio | Region Free |
| Speleditie | Standard edition |
| Personage | Atari |
| Gesproken taal | en |
| Format | Blu-ray |
| EAN | 0742725911611 |
| Minimale leeftijd | 12 |
| Inhoud leeftijdsindicatie | Geen specifieke meldingen |
| Doelgroep | Fanatieke gamer, Vrijetijdsgamer |
| Online abonnement vereist | Xbox Live Gold |
| Online optie | Ja |
| Online multiplayer | Ja |
| Splitscreen | Nee |
| Aantal spelers | 2 |
| Aantal spelers offline | 2 |
| Genre | Actie |
| Platform | Xbox One |
| Reparatie type | Carry-in |
| Speltype | Arcade |
| 4K-gaming ondersteuning | Nee |
| Fabrieksgarantie termijn | 2 jaar |
| Gewicht | 72 g |
| Gewonnen prijzen | geen |
| Ondertitels | Engels |
| Oorspronkelijke releasedatum | 2017-04-07 |
| Retour- en annuleerbeleid | Klik hiervoor op Retourneren onderaan deze pagina |
| Systeemeisen | Windows 10 & MAC |
| Talen container | en |
| Uitzonderingen fabrieksgarantie | Nee |
| Verpakking breedte | 134 mm |
| Verpakking hoogte | 12 mm |
| Verpakking lengte | 172 mm |
| Verpakkingsinhoud | Protective sleeve |
| Verpakking | Amaray |
| Virtual Reality mogelijkheden | Niet geschikt voor VR |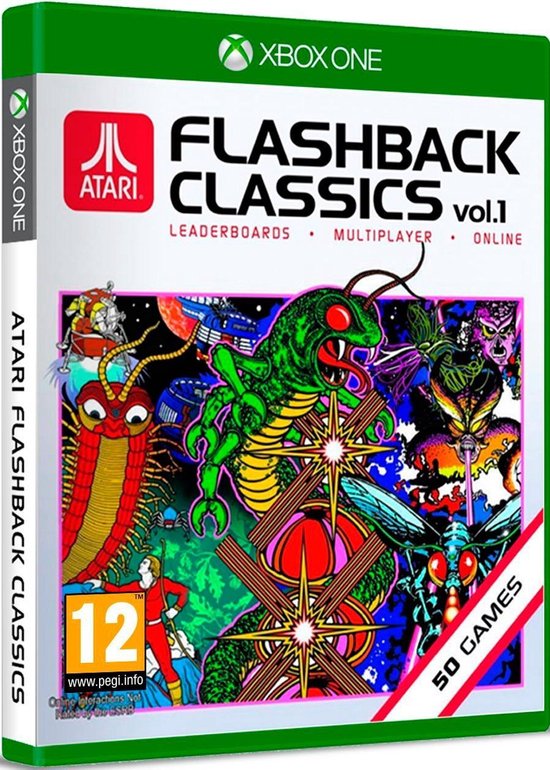 Atari Flashback Classics Vol1 – Xbox One