Bc Star Wars – Darth Vader – Storm Trooper – The sith – Darth Maul – Jedi Unisex T-shirt L

Een stoer T-shirt met grote print op de borst.
Bekijk onze gehele Bol.com assortiment via: https://www.bol.com/nl/w/stan-lee-designs-en-shirts/1497978/
Wij drukken elk design af pér bestelling en snijden/persen het voor u op een hoog kwaliteit T-shirt.
Al onze prints worden niet zomaar op uw shirt gedrukt, maar worden machinaal uitgesneden op vinyl om het vervolgens op uw kledingstuk te persen.

Het materiaal dat wij gebruiken is van hoogwaardig vinyl, waardoor het lijkt alsof de print uit uw kledingstuk spat!

Door deze methode heeft u niet te maken met kleuren die vervagen of kwaliteitsverlies.
Onze designs zijn zeer uniek en geselecteerd om u te laten kiezen uit een collectie die u nergens anders ziet.

De beste gaming producten vind je met met de scherpste prijs bij PocketCubes
Specificaties:
Bc Star Wars – Darth Vader – Storm Trooper – The sith – Darth Maul – Jedi Unisex T-shirt L
| | |
| --- | --- |
| EU maat | L |
| Patroon | Effen |
| Maat op Label | L |
| Materiaal 1 | Katoen |
| Materiaal 1 Percentage | 100% |
| Materiaal 2 | Polyester |
| Materiaal 2 Percentage | 20% |
| Materiaal 3 | Elastaan |
| Materiaal 3 percentage | 2% |
| Type Stof | Gekamd katoen |
| Materiaal voering | Katoen |
| Seizoensjaar | Never out of stock |
| Maat leverancier | Niet van toepassing |
| Wasvoorschrift | Machinewas |
| Opties | Met blind elastiek |
| Lengte kledingstuk | Normaal |
| Mouwlengte | Korte mouw |
| Kraagvorm | Ronde hals |
| Type Zakken | Geen zakken |
| Type Mouw | Standaardmouw |
| Totale lengte | 74 cm |
| Aantal stuks in verpakking | 1 |
| EAN | 8946005319100 |
| Stretch | Met stretch |
| Type Shirt | T-shirt |
| Met voering | Nee |
| Model | Star Wars – Chewbacca – Han Solo – The Mandalorian – The Sith – Darth Vader – Jedi – Chewy – Lightsaber – Stormtrooper – The Force – This is the way – Boba Fett |
| Geslacht | Unisex |
| Gewicht | 74 g |
| Kleur | Wit |
| Lijn | B&C |
| Maat mannen | Niet van toepassing |
| Maat volwassenen unisex | L |
| Maat vrouwen | Niet van toepassing |
| Maatadvies | Valt normaal |
| Materiaalbeschrijving | 100% Voorgekrompen katoen |
| Doelgroep | Volwassenen |
| Gelegenheid mode | Casual |
| Pasvorm | Normaal |
| Personage | Star Wars |
| Seizoenscollectie | Never out of stock |
| Sluiting | Geen sluiting |
| Totale productlengte bij maat | 74 |
| Totale rug breedte | 54 cm |
| Totale rugbreedte bij maat | 54 |
| Type mode | Mode |
| Verpakking breedte | 40 cm |
| Verpakking hoogte | 3 cm |
| Verpakking lengte | 30 cm |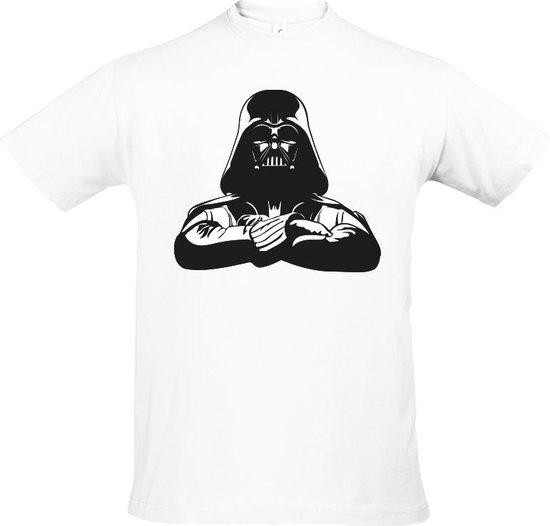 Bc Star Wars – Darth Vader – Storm Trooper – The sith – Darth Maul – Jedi Unisex T-shirt L