Civilization 4 – Warlords – Windows

Sid Meier's Civilization IV: Warlords is het eerste expansion pack voor het uiterst succesvolle 4e deel in de Civilization franchise. Civ IV: Warlords is een ode aan 's werelds grootste militaire leiders. De uitbreiding levert maar liefst 6 gloednieuwe, unieke scenarios en geeft de speler de kans om de geschiedenis te veranderen met behulp van hun nieuwe 'Warlord'. Civ IV: Warlords bevat nieuwe beschavingen, leiders, eenheden en wonderen die voor nog meer fun en spannende manieren zorgen om uiteindelijk heerser van de wereld te worden. Een absolute must have voor alle Civilization IV fans!
Belangrijkste features:
– Warlords: Een nieuw 'great person' type genaamd the Warlord,

– Vassal States: Versla een vijand en onderwerp hem aan jouw bewind,

– Game Scenarios: De uitbreiding levert 6 gloednieuwe scenarios,

– New Civilizations: 6 nieuwe beschavingen en bijbehorende eenheden,

– Civilization Leaders: 10 nieuwe leiders, zowel voor bestaande als de nieuwe beschavingen,

– New Wonders: de expansion bevat 3 nieuwe wonderen,

– Unique Buildings: Elke beschaving krijgt zijn unieke gebouwen en eenheden,

– New Units, Resources, and Improvements: De algehele gameplay is getweaked en bevat tal van verbeteringen,

– Post-Release Patches and Game Upgrades: Alle updates die tot nu toe zijn vrijgegeven voor Sid Meier's Civilization IV zullen in de uitbreiding zitten.
NB: de full version van Civilization IV is nodig om deze uitbreiding te kunnen spelen.

De beste gaming producten vind je met met de scherpste prijs bij PocketCubes
Specificaties:
Civilization 4 – Warlords – Windows
| | |
| --- | --- |
| Platform | Windows |
| Gesproken taal | en |
| Format | Dvd-rom |
| EAN | 5026555039918 |
| Minimale leeftijd | 12 |
| Inhoud leeftijdsindicatie | Geweld |
| Online optie | Ja |
| Systeemeisen | Windows 2000/XP1.6 Ghz processorMemory: 512 MB RAMHarde schijf ruimte: 2.5 GBVideo: 64 MBSoundkaart: DirectX 7 compatibelDirectX: Versie 9.0c |
| Retour- en annuleerbeleid | Klik hiervoor op Retourneren onderaan deze pagina |
| Verpakking | Amaray |
| Oorspronkelijke releasedatum | 2007-01-01 |
| Speltype | Turn Based |
| Talen container | en |
1 recensie voor
Civilization 4 – Warlords – Windows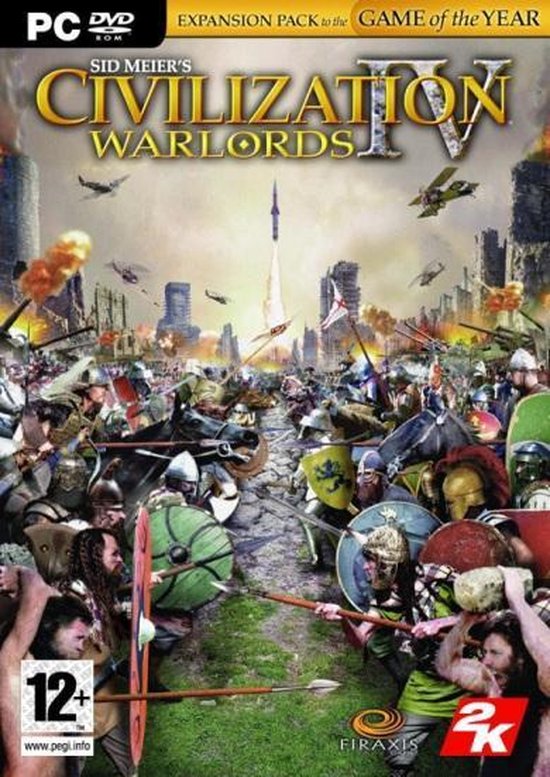 Civilization 4 – Warlords – Windows