Dishonored – Game of the Year Essentials Edition – PS3

Dishonored, Game of the Year Edition
Dishonored, Game of the Year Edition is de ultieme uitgave van de geprezen first-person actiegame. Deze volledige uitgave bevat naast de originele game, ook alle officiele uitbreidingen: Dunwall City Trials, The Knife of Dunwall, The Brigmore Witches en Void Walkers Arsenal.
Plaats van gebeuren in Dishonored, is Dunwall, een industriele stad die teert op walvisvangst en waar steampunk technologie en buitenwereldse krachten naast elkaar bestaan in de schaduw. Jij bent Corvo, ooit een bodyguard met prima reputatie van de geliefde Keizerin, tot zij vermoord wordt. Je wordt beschuldigd van de misdaad en wordt een beruchte huurmoordenaar, te herkennen aan je masker dat er verontrustend uitziet.
In tijden van onzekerheid en in een stad die kreunt onder de plaag en geleid wordt door een corrupte overheid die beschikt over angstwekkende technologie, zorgen donkere krachten voor je bovennatuurlijke vaardigheden – maar tegen welke prijs? De waarheid achter je verraad is al even troebel als het water dat de stad omringt, en het leven dat je ooit kende, is definitief verleden tijd.
Je kunt je vijanden op een creatieve manier om het leven helpen, je bovennatuurlijke krachten combinerend met de wapens en gadgets die tot je beschikking staan. Streef je doelen na vanuit de schaduw, of ga met getrokken wapens recht op je doel af. Het eindresultaat van de opdrachten hangt af van de keuzes die jij maakt.

De beste gaming producten vind je met korting bij PocketCubes
Specificaties:
Dishonored – Game of the Year Essentials Edition – PS3
| | |
| --- | --- |
| Merk | Bethesda |
| Platform | PlayStation 3 |
| Genre | Shooter |
| Speleditie | Standard edition |
| Format | Blu-ray |
| EAN | 5055856404248 |
| Doelgroep | Fanatieke gamer, Vrijetijdsgamer |
| Minimale leeftijd | 18 |
| Inhoud leeftijdsindicatie | Geweld |
| Online abonnement vereist | Geen abonnement vereist |
| Online optie | Nee |
| Online multiplayer | Nee |
| Splitscreen | Nee |
| Regio | Region Free |
| Systeemeisen | Sony PlayStation 3 console + controller(s). Werkt niet op een PlayStation 2 of 4! |
| Retour- en annuleerbeleid | Klik hiervoor op Retourneren onderaan deze pagina |
| Verpakking | Amaray |
| Fabrieksgarantie termijn | 3 maanden |
| Gewicht | 90 g |
| Gewonnen prijzen | Geen |
| Oorspronkelijke releasedatum | 2015-09-14 |
| Speltype | First Person |
| Talen container | en |
| Talen product | en |
| Verpakking breedte | 137 mm |
| Verpakking hoogte | 15 mm |
| Verpakking lengte | 173 mm |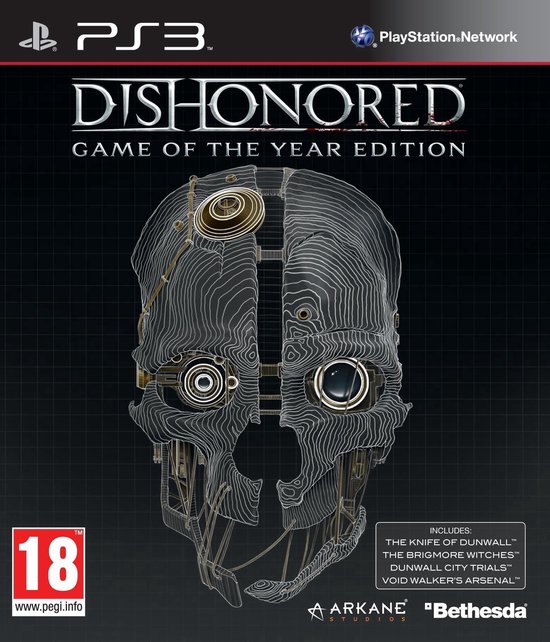 Dishonored – Game of the Year Essentials Edition – PS3