Eat Lead: The Return of Matt Hazard

De klassieke videogameheld Matt Hazard keert terug in Eat Lead: The Return of Matt Hazard. In de game krijgt Matt Hazard de kans om zich voor eens en voor altijd te bewijzen als de koning van de shooter games wanneer Wallace Wellesley, de eigenaar van publisher Marathon Megasoft, hem een comebackrol aanbiedt in een nieuwe titel voor de Xbox 360 en PlayStation 3.
Eat Lead is een unieke mix van humor en actie. De gevechten zijn doorspekt met vette knipogen naar de videogamewereld. Zo moet je videogamehelden als Master Chef en Captain Carpenter helpen en vertegenwoordigen de levels verschillende populaire games.
De game maakt gebruik van een strategisch dekkingssysteem dat je in staat stelt om niet alleen achter muren te schuilen maar ook om over verschillende objecten heen te klimmen of om tussen twee objecten door te gaan. Verder zijn er veel vernietigbare elementen aanwezig om de shoot-outs lekker spectaculair te houden.

De beste gaming producten vind je met korting bij PocketCubes
Specificaties:
Eat Lead: The Return of Matt Hazard
| | |
| --- | --- |
| Merk | D3 Publishing |
| Platform | PlayStation 3 |
| Genre | Avontuur, Role Playing Game (RPG) |
| Speleditie | Standard edition |
| Gesproken taal | en |
| Format | Blu-ray |
| EAN | 5060125483398 |
| Doelgroep | Fanatieke gamer |
| Minimale leeftijd | 16 |
| Online abonnement vereist | Geen abonnement vereist |
| Online optie | Nee |
| Regio | Region Free |
| Systeemeisen | Sony PlayStation 3 console + controller(s). Werkt niet op een PlayStation 2 of 4! |
| Retour- en annuleerbeleid | Klik hiervoor op Retourneren onderaan deze pagina |
| Verpakking | Amaray |
| 4K-gaming ondersteuning | Nee |
| Gewicht | 104 g |
| Gewonnen prijzen | Geen |
| Oorspronkelijke releasedatum | 2009-03-13 |
| Speltype | Arcade |
| Talen container | en |
| Verpakking breedte | 13.50 cm |
| Verpakking hoogte | 17.10 cm |
| Verpakking lengte | 1.40 cm |
| Virtual Reality mogelijkheden | Niet geschikt voor VR |
2 recensies voor
Eat Lead: The Return of Matt Hazard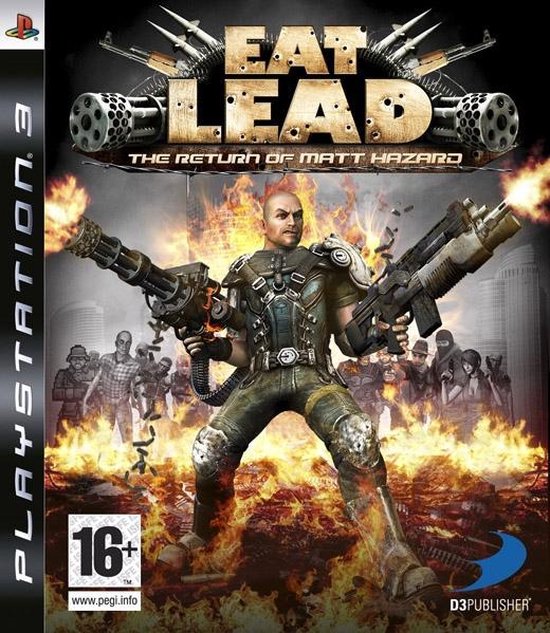 Eat Lead: The Return of Matt Hazard