Grand Theft Auto V (GTA 5): Criminal Enterprise Starter Pack – Add-on – Xbox One Download

Dit is het Criminal Enterprise Starter Pack voor Grand Theft Auto V (GTA 5). Deze add on is een digitaal product die je direct na aanschaf kunt downloaden via je bol.com account en in gebruik kunt nemen als Xbox One download.
Let op, dit gaat om uitbreidingscontent boven op het normale spel (wat u al in bezit moet hebben). Grand Theft Auto V is dus vereist om dit product in gebruik te nemen. Deze content is alleen beschikbaar in GTA Online en wordt in de game aangemerkt als FREE (gratis) en heeft geen inruilwaarde (voertuigen inbegrepen). Installeer het pakket en start GTA Online.
Gebruiksvoorwaarden

Volg de instructies om je items te claimen bij de winkels en websites in de game.
Bij schending van de licentie voor eindgebruikers, gedragscode of ander beleid kan de toegang tot de game of online account worden beperkt of beeindigd.
Met deze niet-overdraagbare code krijg je toegang tot speciale functies, zoals exclusieve, te ontgrendelen, downloadbare of online content, diensten of functionaliteit.
Voor toegang tot speciale functies is mogelijk een internetverbinding vereist.
Speciale functies kunnen, na een opzegtermijn van 30 dagen, worden beeindigd, gewijzigd, of onder gewijzigde voorwaarden worden aangeboden.
Deze functies zijn mogelijk niet beschikbaar voor alle gebruikers. Sommige speciale functies zijn exclusief beschikbaar op bepaalde gameplatforms of via bepaalde aanschafmethoden en kunnen niet afzonderlijk worden gekocht. Ga voor meer info naar http://support.rockstargames.com.
Bij aankoop van dit product ga je ermee akkoord dat je nog gevraagd kunt worden om, voorafgaand aan het downloaden van het product, licentievoorwaarden van de leverancier van dit product te accepteren.
De beste gaming producten vind je met korting bij PocketCubes
Specificaties:
Grand Theft Auto V (GTA 5): Criminal Enterprise Starter Pack – Add-on – Xbox One Download
| | |
| --- | --- |
| Merk | Rockstar |
| Game platform | Xbox One download |
| Personage | GTA |
| EAN | 8806188716687 |
| Retour- en annuleerbeleid | Dit product kan niet geretourneerd of geannuleerd worden |
| Regio games | Region Free |
| Talen container | en |
| Type indicator | Add-on |
| Type opbergcase | Download |
2 recensies voor
Grand Theft Auto V (GTA 5): Criminal Enterprise Starter Pack – Add-on – Xbox One Download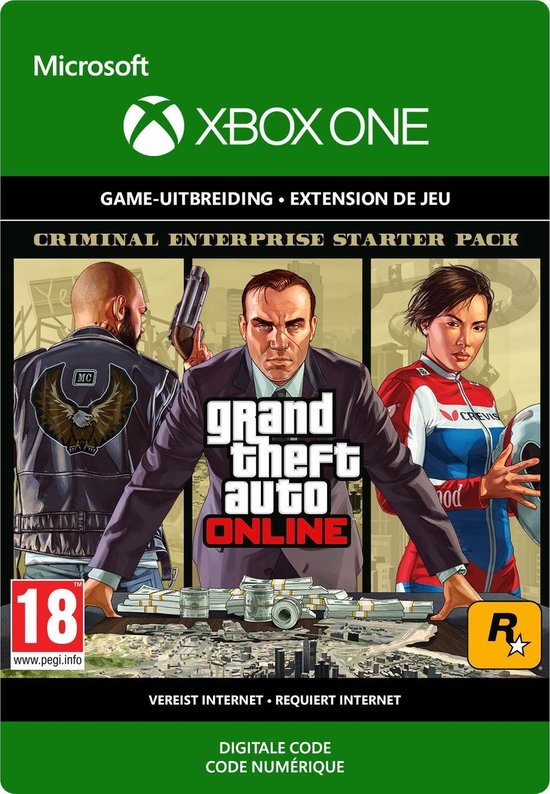 Grand Theft Auto V (GTA 5): Criminal Enterprise Starter Pack – Add-on – Xbox One Download