Heathcliff: The Fast & The Furriest

Het racespel Heathcliff: The Fast and the Furriest plaatst jou in de spreekwoordelijke schoenen van de eigenwijze kater Heathcliff. De jaren negentig tekenfilmheld moet zijn liefje Sonja redden uit handen van buitenaardse wezens. Het enige wat hij nu moet doen, is racen voor volk en vaderland!
Katachtige aliens hebben een eeuwigheid gezocht naar een nieuw planeet om te wonen. En natuurlijk landen zij precies in de achtertuin van Heathcliff. Ze ontvoeren Sonja en geven haar alleen terug wanneer de brutale kater hen verslaat.
In Heathcliff: The Fast and the Furriest kan je spelen met de hoofdpersoon, zijn vrienden en natuurlijk kan je veel vijanden tegen. Verschillende voertuigen met elk hun eigen voor- en nadelen zorgen voor flink wat diversiteit. Dit spel is met twee gamers tegelijk te spelen. Hoofdzakelijk neem je het in Heathcliff: The Fast and the Furriest op tegen computergestuurde vijanden.
Een kat in het nauw maakt rare sprongen, en dat kan zeker gezegd worden van deze racende Heathcliff. Als dat maar goed gaat!

De beste gaming producten vind je met met de scherpste prijs bij PocketCubes
Specificaties:
Heathcliff: The Fast & The Furriest
| | |
| --- | --- |
| Merk | Enjoy Gaming |
| Platform | Nintendo Wii |
| Genre | Race |
| Speleditie | Standard edition |
| Gesproken taal | en |
| Format | Dvd-rom |
| EAN | 5060216311289 |
| Doelgroep | Vrijetijdsgamer |
| Minimale leeftijd | 3 |
| Online abonnement vereist | Geen abonnement vereist |
| Splitscreen | Nee |
| Regio | PAL |
| Systeemeisen | Nintendo Wii of Wii mini console + controller(s) |
| Retour- en annuleerbeleid | Klik hiervoor op Retourneren onderaan deze pagina |
| Verpakking | Amaray |
| Gewicht | 149.69 g |
| Gewonnen prijzen | Geen |
| Oorspronkelijke releasedatum | 2013-08-30 |
| Speltype | Third Person |
| Talen container | nl |
| Verpakking breedte | 2.54 cm |
| Verpakking hoogte | 19.30 cm |
| Verpakking lengte | 14.22 cm |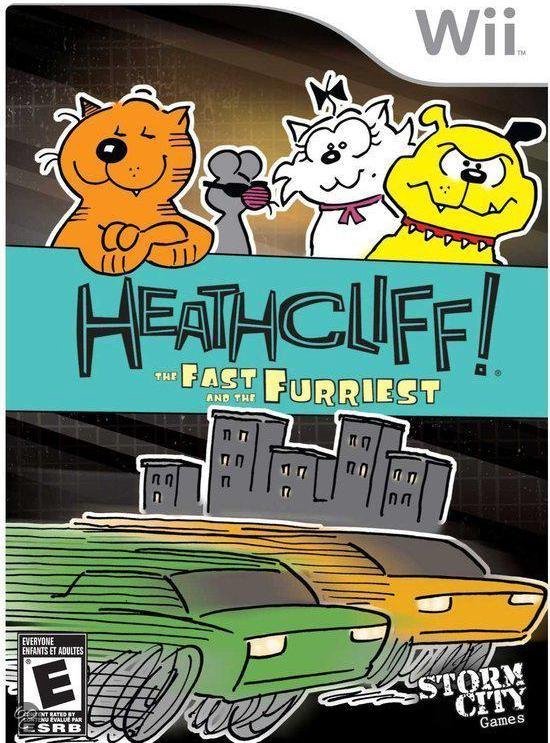 Heathcliff: The Fast & The Furriest