L.A. Noire – Complete Edition /PS3

L.A. Noire Complete Edition bevat naast de game ook alle downloadable content die voor L.A. Noire verschenen is alleen bij nieuwe producten.
Speel de extra cases Nicholson Electroplating, Reefer Madness, The Consul's Car, The Naked City en A Slip of the Tongue. Daarnaast bevat deze versie de Badge Pursuit Challenge en alle wapens en outfits die ooit verschenen zijn.
L.A. Noire is een actiegame met een open spelwereld in het Los Angeles van 1947. Je kruipt in de huid van Cole Phelps; een beginnend rechercheur die zich binnen de politiemacht wil opwerken. Hiervoor moet je moorden oplossen, verdachten ondervragen en bewijsmateriaal vinden en interpreteren.

De beste gaming producten vind je met korting bij PocketCubes
Specificaties:
L.A. Noire – Complete Edition /PS3
| | |
| --- | --- |
| Merk | Rockstar |
| Online abonnement vereist | PlayStation Plus |
| Genre | Educatie |
| Speleditie | Standard edition |
| Gesproken taal | en |
| Format | Blu-ray |
| EAN | 5026555407939 |
| Doelgroep | Fanatieke gamer, Vrijetijdsgamer |
| Minimale leeftijd | 16 |
| Inhoud leeftijdsindicatie | Geen specifieke meldingen |
| Platform | PlayStation 3 |
| Online multiplayer | Nee |
| Online optie | Nee |
| Splitscreen | Nee |
| Aantal spelers offline | 1 |
| Regio | PAL |
| Retour- en annuleerbeleid | Klik hiervoor op Retourneren onderaan deze pagina |
| Verpakking | Amaray |
| 4K-gaming ondersteuning | Nee |
| Speltype | Behendigheid |
| Talen container | nl |
| Virtual Reality mogelijkheden | Niet geschikt voor VR |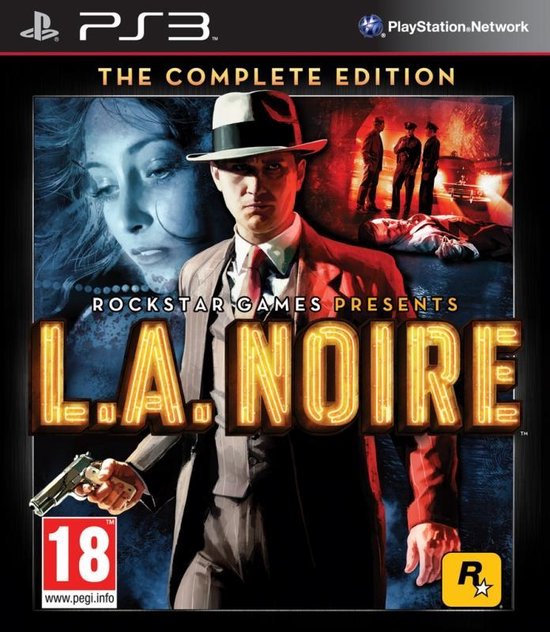 L.A. Noire – Complete Edition /PS3