Logitech G920 Driving Force – Racestuur en Pedalen – Xbox Series X|S, Xbox One & PC

Dit is de Logitech G920. De G920 is een Stuurwiel + pedalen. Geschikt voor de platformen PC en Xbox One. Driving Force van Logitech G heeft alles in huis voor de perfecte rij-ervaring. Met deze combi sprint je in no time naar het hoogste niveau. Als je nog niet achter het stuur van je superauto hebt gezeten, heb je nog geen echte racesimulatie meegemaakt.
Het echte stuurwiel
Een rijsimulatie wordt pas echt meeslepend als er oog is voor details. De forcefeedback via twee motoren zorgt ervoor dat je elke slippende band en verandering in ondergrond voelt. Stevige stalen kogellagers in de stuuras zorgen voor extra gewicht en duurzaamheid. Roestvrijstalen versnellingsregelaars en vloerpedalen zorgen voor precisiekracht. Het stuurwiel is bekleed met handgestikt leer en maakt elke auto luxe. Rijd soepel en stil dankzij de helische tandwielen.
Verstelbare vloerpedalen
Voor een realistischere rijhouding wordt het racestuur geleverd met een afzonderlijke vloerpedaleneenheid met geïntegreerde gas-, rem- en koppelingspedalen. Met Driving Force kun je comfortabel remmen, versnellen en schakelen zoals je in een echte auto zou doen.
Bijgesloten in de verpakking

Stuurwiel
Pedalen
Stroomadapter
Handleiding
Maak je raceervaring compleet met deze compatibele accessoires

Zet een tandje bij Schakel net als in een echte race elke keer een versnelling hoger met de Driving Force Shifter. De Driving Force Shifter van Logitech G heeft 6 versnellingen met korte schakelgang in een H-patroon (de achteruit duw je naar beneden).
Bureau- en consolemontage Race zelfverzekerd in de wetenschap dat het stuurwiel niet zal verschuiven tijdens agressieve bewegingen. Het racestuur kan stevig aan je tafel of raceconsole worden bevestigd via ingebouwde klemmetjes of schroefpunten. Voor een extra realistisch gevoel kun je de G29 en G920 – stuurwiel, pedalen en versnelling – perfect monteren in de Playseat®-racesimulatiecockpits.
Specificaties

Gaming controle technologie: Analoog/digitaal.
Connectiviteitstechnologie: Bedraad, Aansluiting: USB 2.0.
Kleur van het product: Zwart
Materiaal behuizing: Aluminium, Leer, Nylon, Roestvrijstaal, Thermoplastic
Doosmateriaal pedalen: Cold rolled steel, Polyoxymethyleen (POM), Roestvrijstaal.
Stroombron: Kabel.
Ondersteunt Windows: Windows 7 Enterprise, Windows 7 Enterprise x64, Windows 7 Home Basic, Windows 7 Home Basic.
De beste gaming producten vind je met met de scherpste prijs bij PocketCubes
Specificaties:
Logitech G920 Driving Force – Racestuur en Pedalen – Xbox Series X|S, Xbox One & PC
| | |
| --- | --- |
| Merk | Logitech G |
| CE markering | Zichtbaar |
| EAN | 2750045789306 |
| Force Feedback | Ja |
| Draadloos | Nee |
| Diameter stuurwiel | 27 cm |
| Maximale draaihoek | 900 graden |
| Met racestuur voetpedalen | Ja |
| Met standaard | Nee |
| Met koppelpedaal | Ja |
| Talen container | nl |
| Geschikt voor Game | Assetto Corsa, DiRT 4, F1 2017, Forza Horizon 3, Forza Motorsport 6, Forza Motorsport 7, Project Cars 2 |
| Verpakkingsinhoud | Stuur + Pedalen |
| Aanvullende functies | Force Feedback via 2 motoren |
| Bluetooth | Nee |
| Game platform | Windows, Xbox One, Xbox Series S, Xbox Series X |
| MPN (Manufacturer Part Number) | 8123 |
| Gewicht | 6997 g |
| Taal handleiding | Engels |
| Trilfunctie | Ja |
| Type aansluiting | USB 2.0 |
| Type bevestiging | Klem |
| Type indicator | Standard edition |
| Type input/output | USB 2.0 A |
| Verpakking breedte | 328 mm |
| Verpakking hoogte | 305 mm |
| Verpakking lengte | 444 mm |
| Voedingstype | USB |
| Categorieën | Racesturen Games |
| Games platform | Xbox One, Xbox Series X, Windows, Xbox Series S |
| Opties | Met voetpedalen, Force feedback, Trilfunctie, Met koppelpedaal |
| Games_consoleserie | PC, Xbox |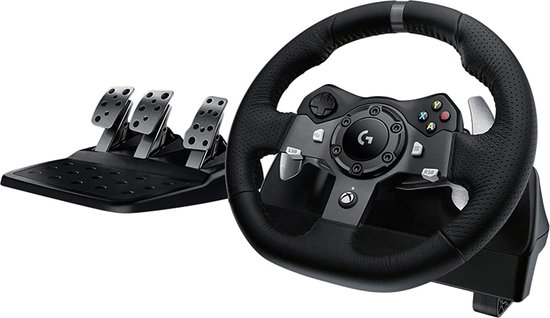 Logitech G920 Driving Force – Racestuur en Pedalen – Xbox Series X|S, Xbox One & PC