Middle Earth: Shadow of War – Xbox One / Windows 10

Middle-Earth: Shadow of War is de opvolger van het zeer succesvolle eerste deel: Shadow Of Mordor. Het eerste deel was winnaar van ruim 50 'Best of 2014' awards, inclusief Game of the Year, Best Action Game en Most Innovative Game!
Middle-earth™: Shadow of War™ is een RPG-actiespel in een open wereld dat zich afspeelt tussen de gebeurtenissen van The Hobbit™ en The Lord of the Rings™ en is een vervolg op het originele verhaal van Middle-earth™: Shadow of Mordor™. Je komt terecht in een rijkere, persoonlijkere en uitgebreide wereld vol epische helden en schurken, bekende locaties, originele vijanden, nog meer persoonlijkheden en nieuwe personages met gloednieuwe verhalen.
Talion en Celebrimbor moeten zich achter de vijandelijke linies begeven, een leger vormen en iedereen in Mordor tegen de duistere Lord Sauron keren. In Middle-Earth, Shadow of War bezit je een nieuwe krachtring en nemen je het op tegen de dodelijkste vijanden, waaronder Sauron en zijn Nazgul, in een grandioze strijd om Midden-aarde.
• EEN INDRUKWEKKEND VERHAAL:
Laat je meeslepen in de epische wereld van Midden-aarde terwijl je een nieuwe ring smeedt en verover forten om het tegen the Dark Lord op te nemen en de Nazgul.
• UITGEBREID NEMESIS SYSTEM:
Ervaar een rijkere en meer persoonlijke wereld vol nieuwe soorten vijanden, sterkere persoonlijkheden en diepgaande verhalen. Iedere confrontatie kan je vijand veranderen van een lage soldaad tot een machtige heerser, persoonlijke aartsvijand of bondgenoot.
• KEER MORDOR TEGEN SAURON:
Begeef je achter de vijandige linies en gebruikt strategie, sluwheid, of brute kracht om Saurons fort te veroveren en zijn legers tegen hem te keren.
• GEOPTIMALISEERD VOOR XBOX ONE X & PS4 PRO
De allermooiste console-graphics van het moment, door o.a. 4K UHD-upscaling & HDR ondersteuning waardoor de game er nog mooier en scherper uit ziet dan op de normale Xbox One en PS4.

De beste gaming producten vind je met met de scherpste prijs bij PocketCubes
Specificaties:
Middle Earth: Shadow of War – Xbox One / Windows 10
| | |
| --- | --- |
| Merk | Warner Bros. Games |
| Platform | Xbox One download |
| Genre | Actie, Avontuur, Role Playing Game (RPG), Vecht |
| Speleditie | Standard edition |
| Personage | Lord of the Rings |
| Gesproken taal | en |
| Format | Digitaal download |
| EAN | 8806188730584 |
| Doelgroep | Fanatieke gamer |
| Minimale leeftijd | 18 |
| Inhoud leeftijdsindicatie | Angst |
| Online abonnement vereist | Geen abonnement vereist |
| Online optie | Ja |
| Online multiplayer | Nee |
| Splitscreen | Nee |
| Aantal spelers | 2 |
| Aantal spelers offline | 1 |
| Regio | Region Free |
| Systeemeisen | Xbox One, Windows 10 of hogerMinimum systeemvereisten:Besturingssysteem: Windows 7 SP1 with Platform UpdateProcessor: AMD FX-4350, 4.2 GHz, Intel Core i5-2300, 2.80 GHzGeheugen: 6 GB RAMGrafische kaart: AMD HD 7870, 2 GB, NVIDIA GTX 660, 2 GBDirectX: Versie 11Netwerk: Breedband internetverbindingOpslagruimte: 70 GB beschikbare ruimteAanvullende opmerkingen: X64 requiredAanbevolen systeemvereisten:Besturingssysteem: Windows 10 Creators UpdateProcessor: AMD FX-8350, 4.0 GHz, Intel Core i7-3770, 3.4 GHzGeheugen: 12 GB RAMGrafische kaart: AMD RX 480, 4 GB or RX580, 4GB, NVIDIA GTX 970, 4GB or GTX1060, 6GBDirectX: Versie 11Netwerk: Breedband internetverbindingOpslagruimte: 70 GB beschikbare ruimteAanvullende opmerkingen: X64 required |
| Retour- en annuleerbeleid | Dit product kan niet geretourneerd of geannuleerd worden |
| 4K-gaming ondersteuning | Ja |
| Fabrieksgarantie termijn | 3 maanden |
| Gewonnen prijzen | – |
| Ondertitels | Engels |
| Oorspronkelijke releasedatum | 2017-10-10 |
| Reparatie type | Carry-in |
| Speltype | Fantasie |
| Talen container | en |
| Type opbergcase | Download |
| Uitzonderingen fabrieksgarantie | geen |
| Virtual Reality mogelijkheden | Niet geschikt voor VR |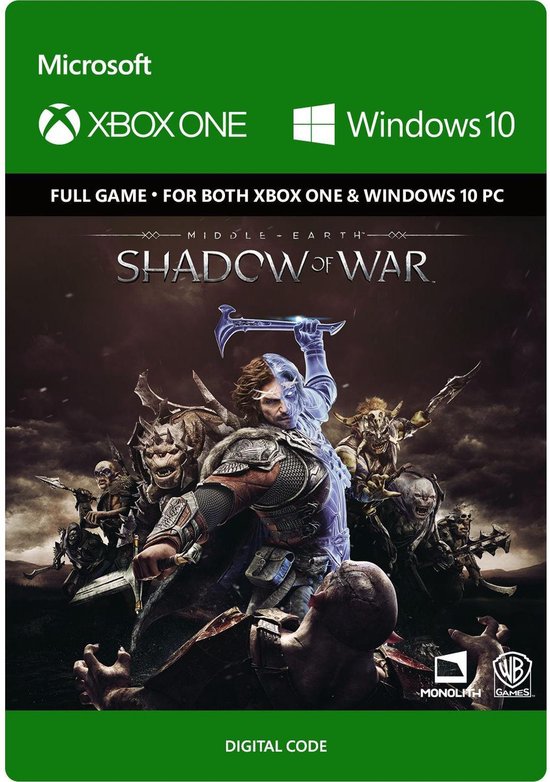 Middle Earth: Shadow of War – Xbox One / Windows 10