Neverwinter Nights – 3 Pack

Neverwinter Nights + Uitbreidingen: Shadows of Undrentide & Hordes of the Underdark.
Neverwinter Nights
De pest heerst in het land Neverwinter en de speler moet een manier vinden om die pest te bestrijden. De macabere tovenaar Maugrim en zijn volgelingen zullen er echter alles aan doen om de pest te verspreiden. Van elke persoon die sterft aan deze pest zal zijn ziel en levensenergie de Sourcestone voeden die in handen is van Maugrim…. je doel is om de pest uit te bannen en Maugrim te verslaan, maar of dat lukt.
Neverwinter Nights: Shadows of Undrentide
Neverwinter Nights is door verschillende sites en bladen uitgeroepen tot 1 van de beste RPG's van 2002. Nu bijna 1 jaar later komt het langverwachte add-on uit. Deze uibreiding biedt de gamers heel veel nieuwe uitdagingen en uren speelplezier. Deze add-on kan niet zonder het origineel gespeeld worden. Kenmerken:
Meer dan 40 uur speelplezier
Tools om te editen
Extra toverspreuken
Extra monsters, rassen, opties
Neverwinter Nights: Hordes of the Underdark
Nieuwe 20+ uur single-player avontuur
Epische levels waardoor je tot level 40 door kunt gaan
Zes nieuwe prestige klassen
Vier extra tilesets
Zestien nieuwe monsters en vijanden
De beste gaming producten vind je met korting bij PocketCubes
Specificaties:
Neverwinter Nights – 3 Pack
| | |
| --- | --- |
| Platform | Windows |
| Gesproken taal | en |
| Format | CD-rom |
| EAN | 8716051016823 |
| Doelgroep | Fanatieke gamer |
| Minimale leeftijd | 12 |
| Retour- en annuleerbeleid | Klik hiervoor op Retourneren onderaan deze pagina |
| Verpakking | Amaray |
| Talen container | en |
2 recensies voor
Neverwinter Nights – 3 Pack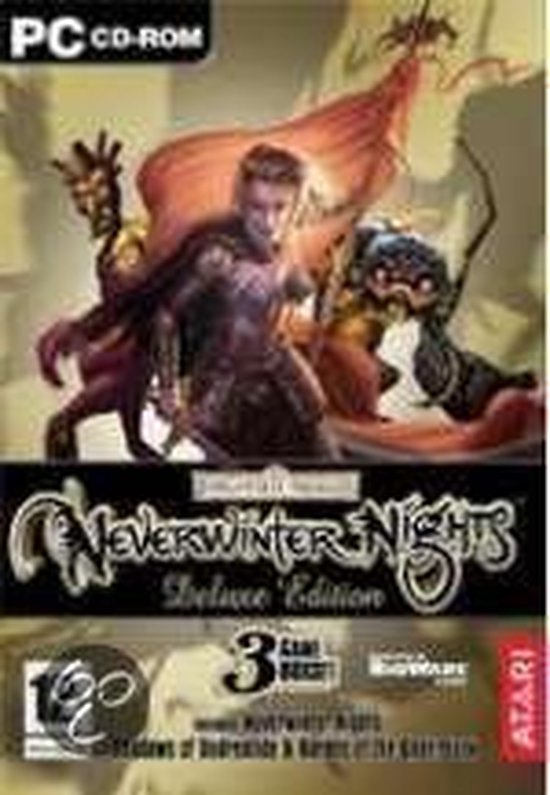 Neverwinter Nights – 3 Pack