Revolution Software – 25th Anniversay Anthology – Windows

Vier mee met Revolution Software en geniet opnieuw van al hun klassiekers van de voorbije 25 jaar, van 1992 tot nu. Ga mee op een boeiende tocht doorheen 25 jaar game geschiedenis.
Key Features:
Lure of the Temptress:
• Dompel je onder in een verhaal in een donkere, middeleeuwse wereld, in dit klassiek point & click avontuur
• Ontmoet unieke personages die in de game hun eigen leven leiden.
Beneath a Steel Sky:
• Een cyberpunk science fiction klassieker, beschouwd als een van de beste adventure games ooit !
• Verken meer dan 100 locaties ontworpen door gevierd comic book artiest Dave Gibbons (Marvel, DC Comics)
In Cold Blood:
• Ga op onderzoek in deze spionage thriller, waarin jij kiest hoe je spelt : infiltreer, sluip en schiet je een weg doorheen steeds gevaarlijker wordende locaties.
• Zoek uit wie jou heeft verraden en het meesterbrein is achter het plan om een nucleaire holocaust te ontketenen!
Broken Sword Series (1-5):
• Speel alle hoofdstukken van een van de meest iconische adventure game series, van 1996 tot 2015!
• Help de twee helden Nico en George bij het ontrafelen van oude mysteries en dodelijke samenzweringen.
• Geniet van de handgetekende omgevingen vol detail !
Additionele Inhoud
Digitaal
Ø Artwork /Concept Art /Character Sheets van alle games
Ø Exclusieve interactieve tijdslijn over de historiek en games van Revolution Software
Ø Soundtrack van alle games, in de hoogste kwaliteit
Ø Een documentaire over 25 jaar Revolution Sofware
Fysiek
Ø Broken Sword comic (Broken Sword 1+2+5, 32 pagina's, Engels en Frans)
Ø Beneath a Steel Sky comic ( 12 pagina's, Engels)
Ø Posters van alle games
Ø Broken Sword USB Stick
De beste gaming producten vind je met met de scherpste prijs bij PocketCubes
Specificaties:
Revolution Software – 25th Anniversay Anthology – Windows
| | |
| --- | --- |
| Merk | Koch Media |
| Platform | Windows |
| Genre | Avontuur |
| Speleditie | Collectors edition |
| Gesproken taal | en |
| Format | Dvd-rom |
| EAN | 4020628839260 |
| Doelgroep | Vrijetijdsgamer |
| Minimale leeftijd | 16 |
| Online abonnement vereist | Geen abonnement vereist |
| Online optie | Nee |
| Online multiplayer | Nee |
| Splitscreen | Nee |
| Regio | Region Free |
| Retour- en annuleerbeleid | Klik hiervoor op Retourneren onderaan deze pagina |
| Verpakking | Box |
| Fabrieksgarantie termijn | 3 maanden |
| Gewicht | 92 g |
| Gewonnen prijzen | Geen |
| Oorspronkelijke releasedatum | 2016-03-11 |
| Speltype | Point and Click |
| Talen container | nl |
| Verpakking breedte | 135 mm |
| Verpakking hoogte | 18 mm |
| Verpakking lengte | 190 mm |
1 recensie voor
Revolution Software – 25th Anniversay Anthology – Windows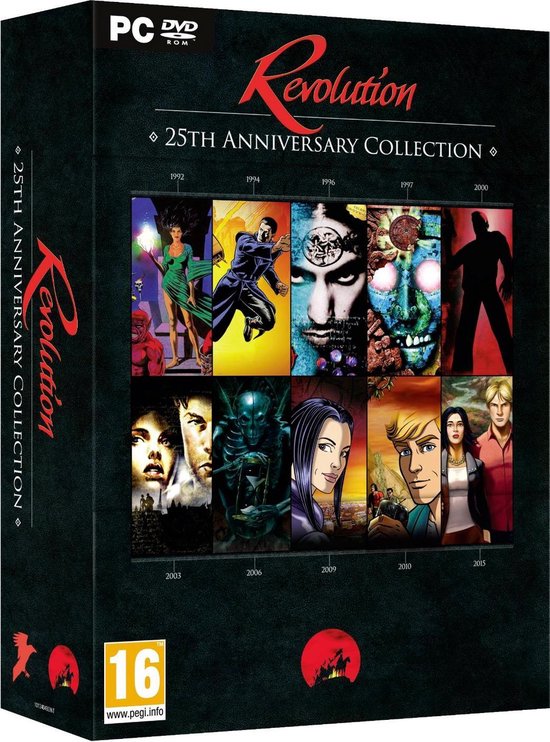 Revolution Software – 25th Anniversay Anthology – Windows