Sniper Elite: V2 – Game of the Year Edition

Sniper Elite V2 is een heruitgave van de gelijknamige klassieker dat in 2005 werd uitgegeven. Sniper Elite V2 is grafisch echter flink verbeterd en bevat talloze nieuwe missies voor gamers die van het sluipschuttergeweer houden!
In Sniper Elite V2 is de speler een sluipschutter met de naam Karl Fairburne. In april 1945 proberen de Russen de geheimen van de Duitsers over nucleaire energie te pakken te krijgen. Hij zit midden in een machtsstrijd van het Duitse verzet, de Sovjets en Nazi's. Karl moet onder andere Martin Bormann vermoorden!
Je zult in Sniper Elite V2 geluidloos te werk moeten gaan en in alle stilte de ideale positie moeten kiezen om vervolgens je schot aan te leggen. De missies van Sniper Elite V2 zijn erg afwisselend en bieden zowel actie als momenten waarop je stilletjes moet sluipen!
Kijk uit dat je tegenstander je niet opmerkt, terwijl jij voorzichtig de windrichting, snelheidsafname van de kogel en andere berekeningen bepaalt in Sniper Elite V2!
The Game of the Year Edition bevat:
Bonus Content
5 extra DLC packs.
De beste gaming producten vind je met korting bij PocketCubes
Specificaties:
Sniper Elite: V2 – Game of the Year Edition
| | |
| --- | --- |
| Merk | 505 Games |
| Splitscreen | Nee |
| Genre | Shooter |
| Speleditie | Standard edition |
| Gesproken taal | en |
| Format | Blu-ray |
| EAN | 8023171031989 |
| Doelgroep | Fanatieke gamer |
| Minimale leeftijd | 16 |
| Inhoud leeftijdsindicatie | Geweld |
| Online abonnement vereist | Geen abonnement vereist |
| Platform | PlayStation 3 |
| Systeemeisen | Sony PlayStation 3 console + controller(s). Werkt niet op een PlayStation 2 of 4! |
| Regio | Region Free |
| Retour- en annuleerbeleid | Klik hiervoor op Retourneren onderaan deze pagina |
| Verpakking | Amaray |
| Gewicht | 123 g |
| Gewonnen prijzen | Geen |
| Oorspronkelijke releasedatum | 2013-03-01 |
| Speltype | Third Person |
| Talen container | en |
| Verpakking breedte | 13.50 cm |
| Verpakking hoogte | 1.40 cm |
| Verpakking lengte | 17.10 cm |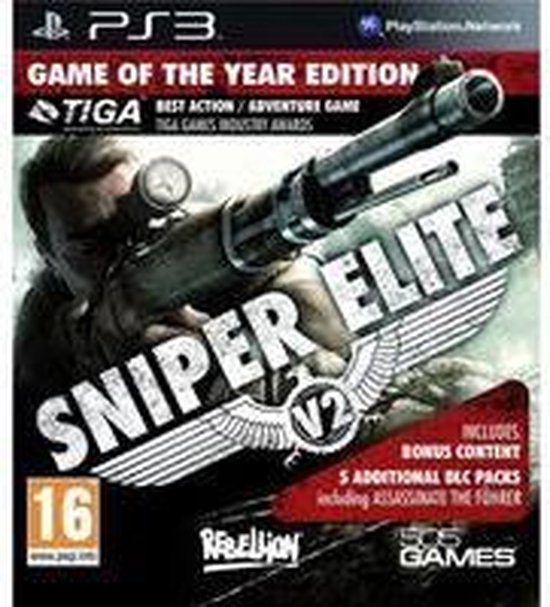 Sniper Elite: V2 – Game of the Year Edition