Spec Ops: The Line – Windows

Spec Ops: The Line is een actiegame die zich in een niet al te verre toekomst afspeelt. De aarde is verdord, verwoest en verlaten. In een verlaten Dubai moet jij samen met een Delta Force team een legerkolonel veilig thuis zien te brengen.
De strijd in Spec Ops: The Line om macht en grondstoffen vindt plaats in Dubia dat compleet wordt overspoeld door aanhoudende zandstormen. Doordat duizenden kilo's zand constant wordt rond geblazen kan het terrein zomaar ineens veranderen. De dynamische zandstormen kunnen paden openen of juist blokkeren en maken de vuurgevechten tot een unieke gebeurtenis!
Je hoeft in deze derde persoon shooter niet in je eentje de zanderige stad te verkennen. Met een Delta Force team aan je zijde wordt het tactisch uitkammen van de straten een stuk gemakkelijker. Je kunt je teamleden naar eigen inzicht orders geven, terwijl je zelf volop meevecht in de explosieve actie!
Zand kan dodelijker zijn dan kogels in Spec Ops: The Line!

De beste gaming producten vind je met korting bij PocketCubes
Specificaties:
Spec Ops: The Line – Windows
| | |
| --- | --- |
| Merk | Mindscape |
| Splitscreen | Nee |
| Genre | Shooter |
| Speleditie | Standard edition |
| Gesproken taal | en |
| Format | Dvd-rom |
| EAN | 5390102520410 |
| Doelgroep | Fanatieke gamer |
| Minimale leeftijd | 18 |
| Online abonnement vereist | Geen abonnement vereist |
| Online optie | Ja |
| Online multiplayer | Ja |
| Platform | Windows |
| Systeemeisen | Minimum: OS: Windows XP SP3 Processor: Intel Core 2 Duo @ 2Ghz, AMD Athlon 64 X2 equivalent Memory: 2 GB RAM Hard Disk Space: 6 GB free Video Card: NVIDIA GeForce 8600, ATI Radeon HD 2600XT (256 MB memory) DirectX®: 9.0 Sound: DirectX Compatible Additional: Initial installation requires one-time internet connection for Steam authentication, software installations required (included with the game) include: STEAM Client, Microsoft Direct X, Visual C++ 2008 Redistributable, Visual C++ 2005 SP1 RedistributableCompatible Aanbevolen: OS: Windows Vista/7 Processor: 2.4 GHz Quad Core processor Memory: 3 GB RAM Hard Disk Space: 10 GB free Video Card: NVIDIA GeForce 9800 GTX/ATI Radeon HD 4850 (512+ MB memory) DirectX®: 9.0 Sound: DirectX Compatible Additional: Initial installation requires one-time internet connection for Steam authentication, software installations required (included with the game) include: STEAM Client, Microsoft Direct X, Visual C++ 2008 Redistributable, Visual C++ 2005 SP1 RedistributableCompatible |
| Regio | Region Free |
| Retour- en annuleerbeleid | Klik hiervoor op Retourneren onderaan deze pagina |
| Verpakking | Amaray |
| Fabrieksgarantie termijn | Geen fabrieksgarantie |
| Gewicht | 88 g |
| Gewonnen prijzen | Geen |
| Oorspronkelijke releasedatum | 2013-09-19 |
| Speltype | Third Person |
| Talen container | nl |
| Verpakking breedte | 132 mm |
| Verpakking hoogte | 15 mm |
| Verpakking lengte | 190 mm |
2 recensies voor
Spec Ops: The Line – Windows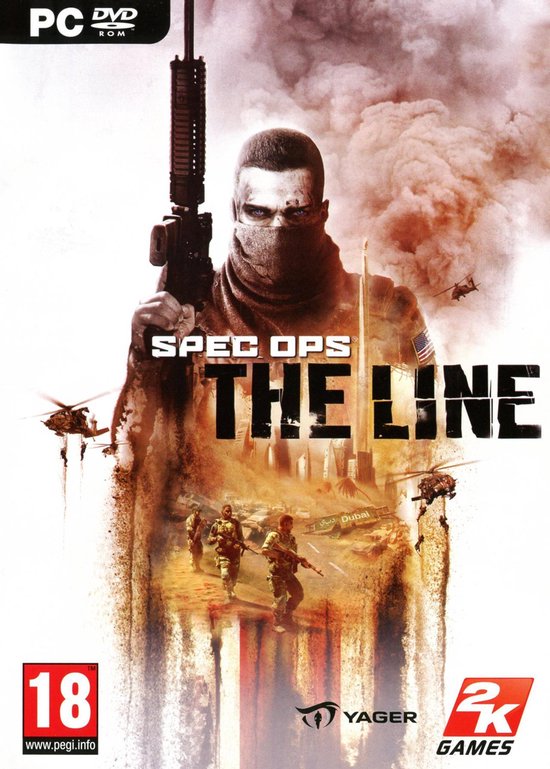 Spec Ops: The Line – Windows