The Bluecoats: North & South – Switch

Herleef de strijd van het Noorden tegen het Zuiden in de burgeroorlog van de VS in de strategiegame The Bluecoats
Bepaal de beste strategie om Amerika te veroveren! The Bluecoats: North & South is een remaster van de cultgame die gebaseerd is op het humoristische stripboek "De Blauwbloezen'. Het verhaal gaat over sergeant Chesterfield en korporaal Blutch, die beiden soldaten zijn en bizarre avonturen beleven tijdens de Amerikaanse burgeroorlog.
Speel als het hoofd van een van de legers van de burgeroorlog. Je doel is om het Amerikaanse grondgebied te veroveren. Leid de legers van het Noorden of van het Zuiden en versla de vijand! Posities innemen, staten en forten veroveren, treinen aanvallen en natuurlijk niet vergeten om jouw eigen spoorwegen te beschermen. Houd rekening met onverwachte situaties! Bescherm jezelf tegen stormen en pas op voor hinderlagen en bandieten. Om er heelhuids uit te komen, zul je afwisselende activiteiten moeten spelen zoals 1 op 1 gevechten, maar ook 1 tegen 30 shoot-outs en achtervolgingen te paard in dit kleurrijke strategiespel!
4 GAMEPLAY-OPTIES – Tactical map, Real time battles, Fort attack/defense en Train attack/defense.
AANPASSEN – Bepaal zelf het startjaar en beïnvloed daarmee de beschikbare middelen en startposities. Schakel tactische kaartfuncties in en uit.
MULTIPLAYER MODUS – Speel alleen of tegen een andere speler en herleef de strijd van het Noorden tegen het Zuiden.
De beste gaming producten vind je met met de scherpste prijs bij PocketCubes
Specificaties:
The Bluecoats: North & South – Switch
| | |
| --- | --- |
| Merk | Mindscape |
| Splitscreen | Ja |
| Genre | Strategie |
| Speleditie | Standard edition |
| Personage | Geen personage |
| Gesproken taal | en |
| Format | Blu-ray |
| EAN | 3760156485904 |
| Doelgroep | Fanatieke gamer |
| Minimale leeftijd | 12 |
| Inhoud leeftijdsindicatie | Geweld |
| Online abonnement vereist | Geen abonnement vereist |
| Online optie | Nee |
| Online multiplayer | Nee |
| Platform | Nintendo Switch |
| Regio | PAL |
| Aantal spelers offline | 2 |
| Retour- en annuleerbeleid | Klik hiervoor op Retourneren onderaan deze pagina |
| Verpakking | Amaray |
| 4K-gaming ondersteuning | Nee |
| Fabrieksgarantie termijn | Geen fabrieksgarantie |
| Gewicht | 57 g |
| Oorspronkelijke releasedatum | 2020-10-27 |
| Reparatie type | Carry-in |
| Speltype | Oorlog |
| Talen container | en |
| Verpakking breedte | 108 mm |
| Verpakking hoogte | 15 mm |
| Verpakking lengte | 171 mm |
| Virtual Reality mogelijkheden | Niet geschikt voor VR |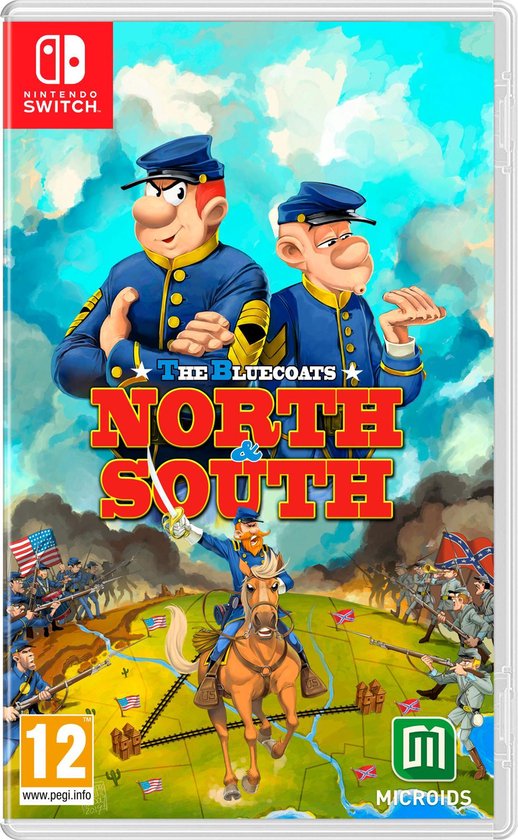 The Bluecoats: North & South – Switch