The Sims 2: Glamour Life Stuff – Engelse Editie

De Sims 2:: Glamour Life Stuff' voegt luxe aan de Sims 2 toe. Met een uitgebreide collectie aan mooie meubelen, hippe kleding en extravagante decoratie items kun je het leven van je Sims behoorlijk opleuken!
Creëer prachtige huizen met 'De Sims 2:: Glamour Life Stuff'. Kies uit de mooiste moderne spullen voor de slaapkamer, woonkamer of keuken. Maak iedereen jaloers met de meest mooie formele en casual outfits! Je Sims krijgen meer dan 60 nieuwe luxe spulletjes om hun levenstijl mee te verrijken
'De Sims 2:' is het langverwachte vervolg op de meest succesvolle game allertijden; 'The Sims'. In 'De Sims 2:' worden je sims naarmate de tijd verstrijkt zichtbaar ouder. Je bepaalt de levensdoelen van je sims op het gebied van roem, fortuin, familie, romantiek en kennis. Krijgen ze een lang en gelukkig leven of een eenzaam en kort bestaan, de keuze is aan jou.
Maak zelf sims aan in de Create-A-Sim mode. Kies uit verschillende gelaatstrekken, gezichtsvormen, haarstijlen en outfits. Creëer de perfecte familie of maak een zooitje ongeregeld aan. De buurten van je sims kun je ook helemaal naar eigen smaak aanpassen. Wanneer je helemaal tevreden bent kan het leven eindelijk beginnen.
Maak je sims nog gelukkiger met 'De Sims 2:: Glamour Life Stuff'!

De beste gaming producten vind je met met de scherpste prijs bij PocketCubes
Specificaties:
The Sims 2: Glamour Life Stuff – Engelse Editie
| | |
| --- | --- |
| Merk | Electronic Arts |
| Platform | Windows |
| Speleditie | Standard edition |
| Gesproken taal | en |
| Format | CD-rom |
| EAN | 5030930050436 |
| Minimale leeftijd | 12 |
| Regio | PAL |
| Systeemeisen | # Windows XP, Windows ME, Windows 98 or Windows 2000# 800 MHz P3 processor# 256 MB RAM# At least 3.5 GB of hard drive space# ATI RadeonTM series (7000 or better), Nvidia Geforce series (GeForce2 and better)# DVD drive for DVD-ROM version |
| Retour- en annuleerbeleid | Klik hiervoor op Retourneren onderaan deze pagina |
| Verpakking | Amaray |
| Talen container | en |
1 recensie voor
The Sims 2: Glamour Life Stuff – Engelse Editie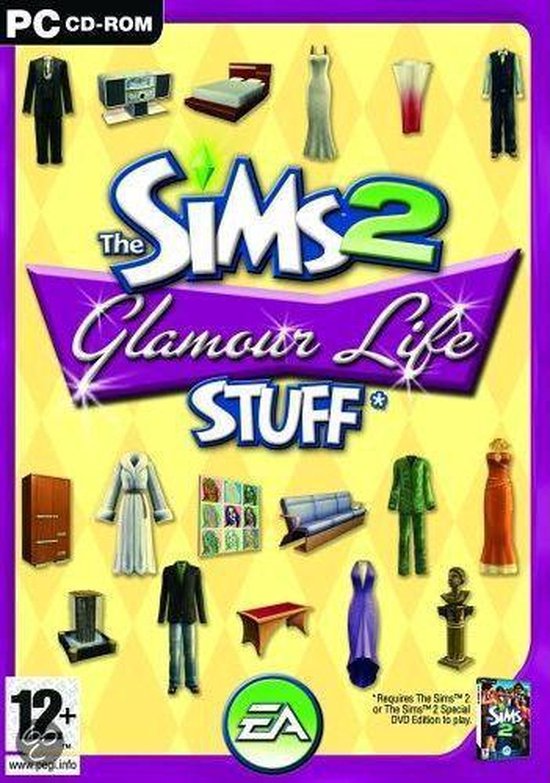 The Sims 2: Glamour Life Stuff – Engelse Editie